Smart investors don't get complacent when the stock market is trending higher. They are always looking for signals to see where the market is heading next, and that's why we want to show our readers a new stock market crash warning sign we've seen…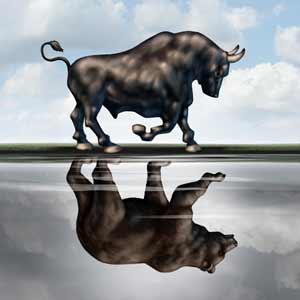 There are the obvious signs of a stock market correction coming, such as when the market makes an abrupt about-face and starts to head lower. And there are less obvious signs of corrections and crashes. These usually show how certain market sectors are starting to fall even as the major market indexes, such as the Dow Jones Industrial Average, continue to make new highs.
Today, we're going to show you another stock market warning sign, and it's one you might not have heard of before…
The Market's Breadth Is Changing in a Dangerous Direction
Right now, Money Morning Technical Trading Specialist D.R. Barton, Jr., sees something that has him a little concerned. What he's seeing is that market breadth is narrowing, and it could be a bearish sign…
Specifically, the indicator that caught his eye is the cumulative advance/decline spread, which keeps a running tab of stocks advancing each day minus the stocks that are declining. In a bull market, we usually see more stocks going up than going down.
This Book Could Make You a Millionaire: The secrets in this book have produced 42 chances to double, triple, and even quadruple your money this year alone. Claim your free copy here…
And that's been the trend during this bull market, too.
But lately, the advance/decline spread has not been going up, which is typically a sign of a growing market.
Instead, the market's breadth is narrowing…
It's a Market Correction Warning Sign, Not a Reason to Panic
Fortunately, the indictor has been mostly flat over the past few weeks. That suggests more of a standoff between bulls and bears rather than a real change in market tone.
And it's merely a sign for investors to keep an eye on, not a reason to panic.
Barton said that we should not ignore this condition, but it is far too early to change your investment posture. Despite the slight change in breadth, the markets continue to grind higher thanks to good economic news out of Europe, China, and Japan, as well as continued strong earnings here in the United States.
Further, it would not take much for the advance/decline spread to get back on track, because its dip is still quite tame. Of course, if the market breadth narrows even more, then we might reconsider getting more defensive in our posture.
For now, Barton is still bullish on continued market gains, despite noticing the market's breadth was narrowing.
However, until the market truly says otherwise, we have to stay with the rising trend and keep invested.
What's Next for the Market?
Barton notes there's a bullish tailwind that's pushing the economic growth higher, and that's good for stocks.
While some in the media think the "story stocks," nicknamed the FANGs, are too richly valued, these companies continue to post big gains and handily beat their profit and revenue expectations.
When the leaders keep leading, the market is in good shape.
The stocks in this FANG group are: Facebook Inc. (Nasdaq: FB), Amazon.com Inc. (Nasdaq: AMZN), Apple Inc. (Nasdaq: AAPL), Netflix Inc. (Nasdaq: NFLX), and Google parent Alphabet Inc. (Nasdaq: GOOGL). And there are a few other big tech stocks in the mix, including NVIDIA Corp. (Nasdaq: NVDA) and Microsoft Corp. (Nasdaq: MSFT).
While the U.S. Federal Reserve is considering an interest rate hike in December, rates remain extraordinarily low. That's good for business, for housing, and for individuals.
And tax cuts appear to be on the way, too. Regulation is already lower, and a new tax cut could open up the economy even more.
Indeed, many gauges of the economy, from earnings to confidence to manufacturing, are in rather good shape. It is difficult to doubt its power, and by extension, the power of the stock market.
On the technical front, even though the advance/decline spread softened, other indicators of market breadth remain strong.
For example, the number of stocks making new 52-week highs continues to swamp the number making new lows. And the percentage of stocks above their key 200-day moving averages is still at a fairly bullish 67% on the New York Stock Exchange.
So, while the bull market is fairly old, and there has not been a 5% pullback since late last year, there are no immediate signs of problems. The market should give us stronger warnings when those problems start to develop.
In D.R. Barton's words, "Let's let the market tell us what to do next. And right now, it's telling us to stay bullish."
Get On the Path to Greater Wealth: When it comes to making money in the market, "getting in" early – before a stock begins to make its decisive move – is the single biggest factor to your success as an investor. Quickly buying Apple after the June 2013 sell-off, for instance, could have doubled your money. Moving on Valeant the same day we recommended our big "negative bet" against it would've booked you a remarkably fast 700% return. That's why we've introduced Money Morning Profit Alerts. This new, free service lets you choose what investing areas you want to follow – and makes sure you get alerted to news from that sector as soon as we publish it. It means no more waiting. No more searching. No more missing out. It's easy to get started – just go here.
Follow Money Morning on Twitter @moneymorning, Facebook, and LinkedIn.