The Ontario cannabis market will soar thanks to an expected 485% growth in medicinal marijuana. That means the medical marijuana sector in Ontario alone will be worth more than $2 billion after Canada legalizes marijuana, and U.S. investors can profit right alongside it…
All cannabis use will be legal in Canada on July 1, 2018. While medical marijuana has been legal in Canada since 2001, it will expand even more thanks to the full legalization effort.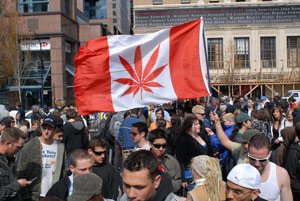 The medical marijuana market in Ontario is projected to climb from $379 million in 2018 to $2.22 billion by 2021, according to Brightfield Group projections.
That's a 485% increase in just three years, and the increased sales will send the prices of certain Canadian marijuana stock prices skyrocketing.
Even more impressive, Ontario will be the epicenter of the Canadian medical marijuana sector. Ontario is expected to account for 68% of the total $3.26 billion in medical marijuana sales projected for all of Canada in 2021.
And that's creating a profit opportunity for investors who know where to look…
You see, the largest licensed marijuana producer in Canada in terms of patient enrollments is based in Ontario. With roughly 60,000 patients in June 2017, it's increasing its production facilities to be prepared for even more patients. Its subsidiary is currently increasing its greenhouse growing space by 700,000 square feet.
And before demand skyrockets, you could own a piece of this Ontario-based cannabis powerhouse, as well as the other top Canadian pot stocks we've found, right now.
The best part is that American investors can easily buy these Canadian marijuana stocks…
The Easiest Way to Invest in the Ontario Cannabis Market
There are two ways American investors can buy Canadian pot stocks.
The first way is by purchasing stocks through a Canadian exchange.
But buying cannabis stocks on Canadian exchanges can be a complicated process for American investors. You need to find a broker that trades on the Toronto Stock Exchange (TSX), convert U.S. dollars into Canadian dollars, and keep track of all the different tax laws.
Instead of finding brokers that let you buy stocks on foreign exchanges and dealing with complicated tax laws, there's an easy way to invest in Canadian marijuana stocks.
The second way to buy Canadian marijuana stocks is through over-the-counter (OTC) markets. U.S. investors can buy Canadian pot stocks listed on OTC exchanges just like they would any other domestic stock.
And the good news is, many marijuana companies list their shares on OTC exchanges.
For U.S. marijuana companies, they have to list shares on OTC markets as opposed to the Nasdaq or New York Stock Exchange because they don't meet the minimum listing requirements. For example, a company must have a minimum aggregate cash flow of $27.5 million for the past three years to be listed on the Nasdaq.
Because legal marijuana is such a new industry, most companies can't meet the requirements to be listed on major exchanges. They turn to the OTC markets instead.
Canadian marijuana companies have a different reason for using OTC markets.
These companies want access to American capital, but dual listings in Canada and the United States are prohibitively expensive, especially for a new industry.
To list on a major exchange in the United States and Canada, they would have to pay fees for listing on both the TSX and a major U.S. exchange.
For example, listing 75 million shares on the NYSE would cost $300,000 and an annual fee of $69,750, according to Investopedia.com.  It can cost a company up to $76,000 a year to list on the TSX, which would be as much as $145,750 per year just in fees for both listings.
But thanks to OTC markets, you can own Canadian marijuana stocks before full legalization happens in July.
And we know the best to own to maximize your profits.
In an exclusive interview with Money Morning, pot stock expert Michael Robinson shares all the good news about Canada's legalization – including details on five tiny weed stocks that could potentially turn a small stake into $100,000…
How to Claim Your Profits in the $2.2 Billion Ontario Cannabis Market