Hurricanes Harvey and Irma ravaged American coastal cities this year, but the rebuilding efforts are actually creating a backdoor profit play for investors...
This year's Atlantic hurricane season is the costliest season on record, with damages totaling $360 billion. While the devastation is unimaginable, the companies in charge of restoring the affected areas are poised to profit, which means you can too.
That's why today we're bringing you the best hurricane stock to buy as the rebuilding process gets underway. In fact, Money Morning Resource Specialist Peter Krauth believes shares of this company could hand you a quick 45% return.
In fact, there's one sector that will be needed the most, and the company Peter is recommending is right at the heart of it...
Why Today's Hurricane Stock Pick Is Poised to Rally 45%
Construction materials companies will benefit the most from the rebuilding effort. That's because the federal government is awarding them contracts to restore Harvey- and Irma-ravaged areas of Texas and Florida.
"The companies that furnish equipment, materials, and services for this gargantuan reconstruction effort will see a strong boost to their businesses," Peter said. "This is the smart money that's moving right now - before all the contracts pile up."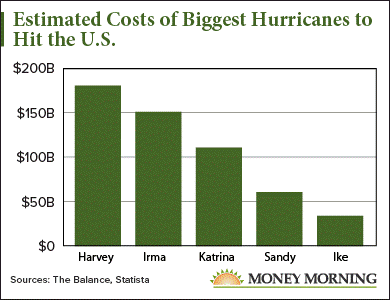 As the U.S. government continues to assess damages across Texas and Florida, more companies will be awarded multimillion-dollar contracts...
On Sept. 14, shortly after Harvey and Irma made landfall, the Federal Procurement Data System (FPDS) reported nearly $614.3 million worth of contracts had been awarded to repair damage from the two hurricanes. Harvey and Irma both hit the United States within weeks of each other and cost an estimated $330 billion in damages combined. That's three times the damage of Hurricane Katrina - formerly the costliest disaster in U.S. history - which cost $110 billion in damage in 2005.
With Harvey and Irma's combined cost more than triple Katrina's, the total value of federal contracts toward current reconstruction will likely be unprecedented. According to the FPDS, contractors received only $20.4 billion in government money after Katrina struck Louisiana, Alabama, and Mississippi.
Life-Changing Profits: This investing strategy has racked up 46 triple-digit wins so far this year - and 59 in the last 12 months. To learn how to get in position for the next one, click here now...
The companies poised to land the biggest contracts - and return the most profits to their investors - are those selling ready-mixed concrete and cement-related materials.
After all, concrete and cement create roads, highways, and buildings, all considered the backbone of U.S. infrastructure. The concrete industry also has extreme economic importance, boasting nearly 535,000 U.S. workers and $25 billion in annual payroll.
And Peter's hurricane stock to buy is the best way to make a quick 45% profit from the reconstruction efforts. This company's quarterly revenue has grown at a pace of 18.6% this year, so you know it's already a growing company.
Plus, this firm has crushed earnings expectations by an average of 116.2% over the last four quarters, showing how Wall Street hugely underestimates it right now...
The Best Stock to Buy to Make a 45% Profit from Hurricane Relief