A new study released in the journal Health Affairs has confirmed why Big Pharma and medical marijuana are mortal enemies.
According to Medical Cannabis News, the study found that, in the 17 states with medical marijuana, prescriptions for painkillers and other classes of drugs fell sharply compared with states that did not have medical marijuana.
By "fell sharply," we mean by a lot. In fact, the average doctor in a state with medical marijuana prescribed 265 fewer doses of antidepressants, 486 fewer doses of seizure medication, 541 fewer anti-nausea doses, and 562 fewer doses of anti-anxiety medication.
Just look at the chart below…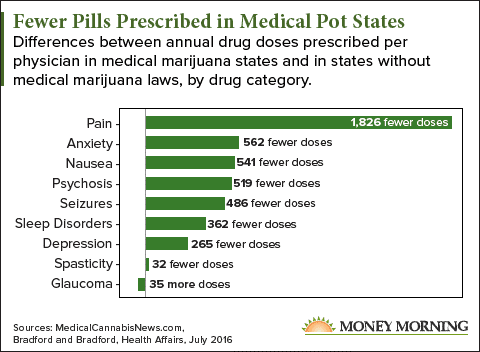 "This provides strong evidence that the observed shifts in prescribing patterns were in fact due to the passage of the medical marijuana laws," according to the study.
Make no mistake: This shift towards non-pill-based prescriptions is costing Big Pharma millions.
For example, one 50-milliliter dose of prescribed Zofran, a popular anti-nausea medication, can cost around $255, according to Drugs.com.
So, an average of 541 fewer doses means about $137,955 in lost revenue – and that's just for one doctor cutting back on prescriptions.
According to market researcher VisionGain, the worldwide business for pain drugs is worth about $68 billion right now.
But marijuana's medicinal potential could soon be taking a big slice of those profits. The legal market for medical marijuana exceeded $4 billion in 2015 and will likely reach $35 billion by early next decade, according to ArcView Market Research and New Frontier Data.
So it's no wonder the pain pill industry is at war with medical marijuana.
"The recent surge in the number of pain sufferers – coupled with the snapback against the prescription of opioid drugs – has opened the door to a wholly new approach to pain treatment: medical marijuana," said Money Morning Director of Technology and Venture Capital Research Michael A. Robinson yesterday (Nov. 7).
"Study after study has shown that up to two dozen medical conditions could be treated with marijuana," he added.
Never miss a single marijuana industry update again; take advantage of our new complimentary service, Profit Alerts. To get real-time marijuana industry news sent directly to your inbox, sign up with one click here.
And there's one company in particular that medical marijuana investors should be watching…
For the past five years, this company has been cultivating strains of the marijuana plant with an eye to increasing concentrations of two key ingredients with major healing properties: CBD and THC.
"Its research has been fruitful, showing incredible promise," said Michael.
In fact, he sees opportunities to realize 1,000% gains from this company alone.
After all, its newest drug is about to dramatically change the lives of the 3 million epilepsy sufferers in the United States (and the 62 million sufferers worldwide)…
This Company Will Lead the Medical Marijuana Pack