Today, we're giving you a list of Canadian marijuana penny stocks to watch. These stocks have surged as much as 50% over just the last week alone, which is why they're worth keeping an eye on ahead of Canada's marijuana legalization plan in July.
While these stocks have jumped over the last week, marijuana investors are looking for a stock with profit potential ahead of it. That's why we're also giving you one of Money Morning Director of Technology & Venture Capital Research - and marijuana industry expert - Michael A. Robinson's favorite pot stocks to own for 2018...
Canadian Marijuana Penny Stock
Current Price
Weekly Gain (Nov. 2-9)
Delta 9 Cannabis Inc.

(OTCMKTS: VRNDF)

$2.34
+50%
Cannabix Technologies Inc.

(OTCMKTS: BLOZF)

$0.63
+37.5%
Lexaria Bioscience Corp.

(OTCMKTS: LXRP)

$0.64
+29.6%
New Age Farm Inc.

(OTCMKTS: NWGFF)

$0.05
+25%
Algae Dynamics Corp.

(OTCMKTS: ADYNF)

$0.11
+22.2%
Enertopia Corp.

(OTCMKTS: ENRT)

$0.04
+20%
Newstrike Resources Ltd.

(OTCMKTS: NWKRF)

$0.35
+16.7%
Global Cannabis Applications Corp.

(OTCMKTS: FUAPF)

$0.10
+11.1%
Golden Leaf Holdings Ltd.

(OTCMKTS: GLDFF)

$0.14
+9.9%
Emblem Corp.

(OTCMKTS: EMMBF)

$1.27
+9.5%
Pot Profits: Forget Jeff Sessions! These Five Canadian Pot Stocks Are Set to Skyrocket. Click Here...
The top marijuana penny stock on the list is Delta 9 Cannabis Inc., a licensed producer of medical marijuana and the fourth company ever to legally sell cannabis in Canada.
U.S. investors can buy shares of Delta 9 Cannabis on over-the-counter markets, but the company recently listed on a major Canadian exchange.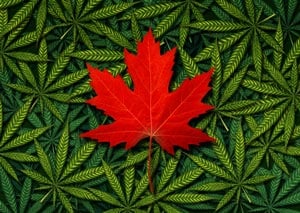 U.S. shares of VRNDF are up 50%, to $2.34, in the last week, after the company went public on the Canadian Venture Exchange (CVE) this past Monday, Nov. 6.
Canadian shares of Delta 9, which listed on the CVE under the ticker "NINE," shot up 246.2% on Nov. 6, from $0.65 Canadian dollars to $2.25. NINE stock has surged 260% overall since its market debut. That Canadian demand has enticed U.S. investors to buy the over-the-counter U.S. shares (VRNDF) of Delta 9, which are up 50% this week.
Although VRNDF's 50% weekly gain may make it a tempting investment, we're recommending a different marijuana stock today. Although it's more expensive than a penny stock, it's one of Michael's favorite marijuana investments, since it's one of the hydroponics industry's fastest-growing companies.
"Hydroponics" refers to the method of growing cannabis in mineral-rich water rather than soil. This is considered revolutionary across the marijuana industry since it allows the plants to grow faster without the need for farmland.
"This method means no mess and, more importantly, no pesticides," Michael explained. "That's a key consideration for green consumers."
But the sector's growth potential will not only benefit green consumers but also investors in hydroponics companies. Research firm Manifest Mind LLC forecasts the value of all hydroponically grown plants worldwide will rise 20.3%, from $19.95 billion in 2015 to $24 billion in 2018.
That's why we're showing you this niche industry's best company to invest in, whose revenue just from its hydroponics business could grow 300% in the next few years...
One of the Best Marijuana Stocks to Buy and Hold in 2018
[mmpazkzone name="in-story" network="9794" site="307044" id="137008" type="4"]
Michael recommends Scotts Miracle-Gro Co. (NYSE: SMG) as the best way to profit from the growing hydroponics sector.
Scotts Miracle-Gro has long been known for selling a wide variety of garden products. The uses for its line of products have included insect control, lawn fertilization, gardening, and landscaping.
But the company has pushed into the marijuana industry in recent years, particularly in 2015, when it made a big acquisition...
On April 3, 2015, Scotts announced it would acquire General Hydroponics - a leading innovator in the hydroponics field for 40 years - for $130 million. This marked Scotts' largest acquisition since 1998, when it bought European garden company Rhone-Poulenc Jardin for $147.5 million.
Scotts buying General Hydroponics was a way to create a new revenue stream, which could grow as hydroponics becomes more mainstream.
"Scotts CEO Jim Hagedorn sees the purchase as just the first of several moves, all aimed toward the goal of creating a $1 billion yearly business," Michael said. "That's a nice addition for a business that currently generates around $3 billion in sales."
SMG stock also offers a competitive dividend of $0.53 per share (2.14% yield). The company has raised its payout every year since 2010, when it was just $0.13. Most marijuana stocks are unprofitable, meaning they don't pay dividends at all.
But SMG's dividend is even better than big peers Central Garden & Pet Co. (Nasdaq: CENT) and Andersons Inc. (Nasdaq: ANDE). Central Garden doesn't offer a dividend, while Andersons only pays $0.16 per share for a 1.80% yield.
A Pot "Bombshell" Just Hit Canada: For our neighbors to the north, it's shocking news. But it could be the best news of all time for marijuana stock investors. In fact, this single "bombshell" event could unleash a new pot stock boom that will blow the doors off anything we've seen up to this point. And by putting a couple of hundred bucks into a handful of tiny Canadian weed companies, you could pocket life-changing gains - turning a few hundred bucks into a fortune overnight. Watch this now to get all the details...
Follow Money Morning on Twitter @moneymorning, Facebook, and LinkedIn.