U.S. President Donald Trump will side with Beijing on the South China Sea dispute in the next five days.
He'll have a chance to do so twice over the next week.
First, Trump will attend a summit with ASEAN members at the Asia Pacific Economic Cooperation (APEC) meeting in Vietnam on Nov. 10 and 11.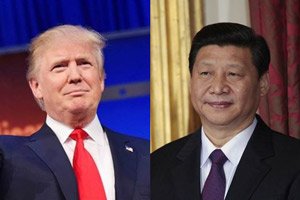 Then, he'll appear at events tied to the Association of Southeast Asian Nations (ASEAN) on Nov. 12 and 13 in the Philippines.
At both of these powwows, POTUS will signal America's support for Beijing.
While Trump may not outright declare U.S. fealty for China's sovereignty claims in the contested waters, he won't outright defy the Red Dragon, either.
And that's all China needs as acknowledgement that the United States has its back.
Because a lack of outright defiance on Trump's part would signal active support for Beijing's sovereignty claims in the South China Sea, where it has unilaterally ignored - and fought against - its neighbor nations' claims for decades.
Here's how we came to this conclusion...
President Trump Has Already Let the South China Sea Fall by the Wayside
Trump offered tough talk on China's clandestine island-building in the contested region while running for president last year.
For example, on April 4, 2016, he told The New York Times, "we have rebuilt China, and yet they will go in the South China Sea and build a military fortress the likes of which perhaps the world has not seen. Amazing, actually. They do that, and they do that at will because they have no respect for our president and they have no respect for our country."
And on Dec. 5, 2016, as president-elect, Trump put out several tweets that, together, read, "Did China ask us if it was OK to devalue their currency (making it hard for our companies to compete), heavily tax our products going into their country (the U.S. doesn't tax them) or to build a massive military complex in the middle of the South China Sea? I don't think so!"
Defense Stocks Are Skyrocketing - See How You Could Profit from This Incredible Company Before It's Too Late
This tweetstorm indicated Trump would enter office as U.S. president fiercely intent on exposing China's various international misdeeds, particularly in regards to its illicit militarization of islands in the South China Sea.
But since actually assuming office, the president has made the conflict less of a priority than his campaign rhetoric suggested.
Thanks to North Korea.
"America is clearly on a downward trajectory in terms of its influence in the region"
You see, as North Korea's largest trading partner, China could apply enough economic pressure to force Pyongyang to change its nuclear-ambitious ways.
In order to make that happen, however, Trump needs to appease the Red Dragon.
And signaling America's consent for Beijing's South China Sea claims is the easiest way to do just that.
The Trump administration is, after all, more concerned with Pyongyang and U.S.-China trade now than the South China Sea dispute itself.
That's evident in what we've seen thus far with his current Asia trip.
Trump has said he appreciates Xi's support for recent efforts to rein in North Korea's weapons programs just yesterday, The Guardian reported.
And he blamed previous U.S. administrations, not China, on the U.S.-China trade deficit - a move that certainly pleased Beijing, which has, until now, been the target of Trump's trade-deficit tirades.
But the president hasn't uttered a word on the South China Sea, indicating that, for him, the issue has fallen by the wayside.
Which has allowed China to step in.