Clean energy stocks in 2018 are on the cusp of massive growth, as the sector is projected to expand by 500% in the United States alone…
The Energy Information Agency is projecting renewable energy production to grow 500% by 2040.
The World's First "Universal Fuel": Physicists have known about an unlimited source of free fuel for over 100 years. See why tech companies are investing millions in this fuel (and how to join them). Click here…
And that means right now is the time to invest in clean energy stocks before they begin to soar.
To help Money Morning readers profit from the massive industry growth ahead, we're giving our readers one of the best clean energy stocks to buy right now. More on that pick in just a bit, but we want to first show you why the renewable energy sector is set to soar…
How Renewables Will Power Clean Energy Stocks in 2018
There are three major catalysts propelling alternative energy sources to explosive growth potential. And as the sector grows, so will renewable energy stocks…
First, global energy demand is rising.
The International Energy Agency projects global demand for energy will rise 25% by 2040. That means we'll need even more energy from limited sources.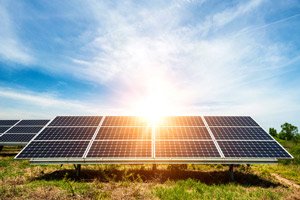 But while fossil fuels like coal, natural gas, and oil are limited in supply and often difficult to extract, renewable power is unlimited and readily available. And that will be essential to helping meet rising demand.
Second, clean energy has some baked-in advantages over fossil fuels.
Not only will more demand mean the world will need renewable energy to meet its needs, but renewables have other advantages, too.
As we just mentioned, clean energy is readily available and limitless. That's important, because as the supply of fossil fuels dwindles, producers have to turn to increasingly difficult-to-reach reservoirs to find more. That can drive up the price of these fuels, or even make them uneconomical if the costs of extraction are too high.
We already see that in the United States, where the breakeven price for shale oil – the more abundant, but more difficult to extract, oil – can rise as high as $80 a barrel, more than 40% higher than oil's current price of $57 a barrel right now.
Plus, renewable energy sources do not produce carbon pollution.
That's also important, as the world prioritizes cleaner forms of energy. Over 60% of Americans consider global warming a serious problem, and 56% of them believe protecting the environment is more important than economic growth.
We can expect policies moving forward to be more favorable to renewable energy than traditional fuels, and that will help catalyze clean energy growth.
Third, the cost of clean energy is dropping.
The most important catalyst for the clean energy sector is the falling cost of renewable energy.
One of the primary criticisms of renewable energy as a viable alternative to fossil fuels has been its cost. Until now…
Wind energy is now the cheapest form of electrical power in new power plants, according to the EIA.
But the cost of solar energy is falling even faster.
Top Story: Why This Is the Time for Investing in Renewables
Over the last 40 years, the cost of solar energy has been cut to 1/150th of its initial cost. And solar costs are down 10% over the last year alone.
That's led to solar power becoming cost-competitive with traditional fossil fuels.
Money Morning Global Energy Strategist Dr. Kent Moors says solar power has reached "grid parity" with traditional fuels, meaning it costs the same to generate electricity using solar as it does using coal or gas.
In fact, solar is at grid parity in at least 20 states, including California and New York.
The sharply dropping costs for solar power, plus the other advantages that renewables have over fossil fuels, gives the entire industry explosive growth potential.
The EIA forecasts that electricity generated by solar power could climb more than 60% by year-end 2018. But its projections for the next 23 years are even more astounding. The EIA projects that solar energy production alone will grow by 500% by 2040.
That's making the best clean energy stocks a top profit play right now. And we know exactly which one to buy to unlock solar energy's once-in-a-lifetime profit potential…
One of the Best Clean Energy Stocks to Buy in 2018