Bulls and bears kept pulling gold prices in different directions over the last month. Despite rising 0.4% last week, the price of gold is down 2.1% since Oct. 13.
The U.S. dollar's rally has been the primary reason for gold's decline. The U.S. Dollar Index (DXY) – which compares the dollar to other currencies like the yen and euro –  is up from 93.09 on Oct. 13 to 94.52 today (Monday, Nov. 13).
But the gold price action is starting to look constructive again…
We know that gold prices tend to put in an interim bottom in October each year since this secular bull market began in 2001. For instance, the metal plunged to a four-month low of $1,252 on Oct. 7, 2016.
Also, if we look at gold's overall positive years since 2001, we see the average return on gold stocks between late October and late February is an impressive 15%. Given how the Dow Jones Gold Mining Index – which tracks gold mining stocks – is up 10.4% in 2017, I think these companies have much more room to run through next February.
And any reasonable correction in stocks could help to trigger such bullish action. That's why, today, I'll share with you my bold forecast for both gold prices and gold stocks through the end of the year.
First, let's check out last week's gold performance – and what that says about the price of gold moving forward…
Gold Prices Climb 0.4% Last Week (Nov. 3-10)
After falling to a near three-month low of $1,269 on Friday, Nov. 3, the gold price opened slightly higher on Monday, Nov. 6, at $1,271. But it surged higher from there, as the DXY sold off from 94.94 to 94.76. This boosted gold by 1%, to settle at $1,282.
Tuesday saw gold give some of that back as the DXY rebounded to 94.91. Gold prices fell in response, opening lower, at $1,276, and trading near that level the rest of the session. That marked a 0.5% decline from the previous close.
The price of gold saw renewed strength on Wednesday even as the dollar traded in the 94.90 range for the entire day. The metal opened at $1,281 and moved 0.6% higher, to $1,284, by the close.
This chart shows how the DXY trended last week…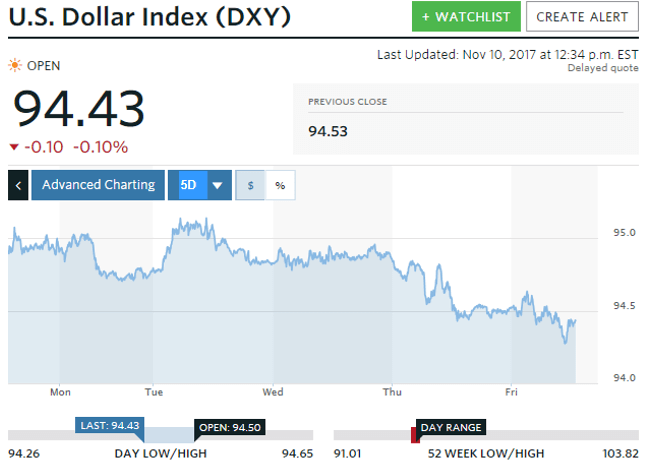 On Thursday, Nov. 9, the metal continued higher on news of Senate Republicans proposing a tax overhaul that would delay Trump's suggested corporate tax cuts. This hit the dollar pretty hard, with the DXY falling from 94.87 to 94.44 by the end of the session. Gold rallied to $1,288 for a gain of 0.3% on the day.
But the gold price plummeted on Friday, completely reversing the gains notched over the previous two sessions. Just after 11:10 a.m., nearly 40,000 gold futures contracts – each representing 100 ounces of gold – were mysteriously sold.
Urgent: Executive Editor Bill Patalon just saw something on his precious metals charts he's only seen twice in 20 years. He calls it the "Halley's Comet of investing" – and it could lead to windfall profits. Read more…
This sent prices plunging by 1.1% over the course of the day. Despite gold settling lower that day at $1,274, it still posted a weekly gain of 0.4%.
Gold prices today (Monday, Nov. 13) are recovering slightly. They're currently up 0.3% and trading at $1,278.
So, where does all this leave gold as we head into the home stretch for 2017? I still think the gold market – including both the gold price and gold stocks – are set for a rally in the final month and a half of the year.
Here's our bullish gold forecast for November and December 2017…
Here's How High Gold Prices and Gold Stocks Are Heading Before 2018
Join the conversation. Click here to jump to comments…
About the Author
Peter Krauth is the Resource Specialist for Money Map Press and has contributed some of the most popular and highly regarded investing articles on Money Morning. Peter is headquartered in resource-rich Canada, but he travels around the world to dig up the very best profit opportunity, whether it's in gold, silver, oil, coal, or even potash.