Crude oil prices have been on a tear lately, gaining over 16% since early October. Indeed, the market scored a technical breakout when it closed above $55 per barrel last week.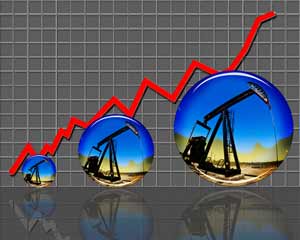 Kudos to Money Morning Global Energy Strategist Dr. Kent Moors, whose oil price prediction was dead-on. He's been claiming crude would reach $55 to $57 per barrel by December. Thursday – ahead of his schedule – the market closed at $57.14.
The consensus indicates there is little resistance on the charts until around $60.
With Brent crude oil, trading in London, showing a similar condition, Moors knows there is one important thing to remember.
"We're now in the perfect environment to make some nice money with the presence of two crucial ingredients: a degree of predictability and low volatility," Moors said.
He plans to release his first-quarter 2018 crude oil forecast soon. But, in the meantime, he has one easy way to get started profiting from rising crude oil prices…
This Is a Great Time to Invest in Energy
The balance between supply and demand is critically important to the oil market, and right now, for the first time in a while, that balance is in place.
This balance doesn't mean the oil market is moving into a "just-in-time" situation, where there is only enough in storage to meet immediate needs.
That's neither possible nor advisable when it comes to a major raw material like oil. People don't use crude oil – they use refined oil products. And without oil supply in storage to allow for at-will refining, even tiny swings in the availability of oil would result in huge swings in the price of crude oil (and refined oil products).
This Could Make Big Oil Obsolete: One gallon of this new fuel could produce enough energy to power a car for 42,325 miles. It's being hailed by many experts as energy's "Holy Grail." Read more…
That could wreak havoc on entire economies. So this balance actually requires a surplus in the market.
At current prices, much of American production is entering profitability.
Now, not all companies will benefit. The cycle of mergers and acquisitions will continue, as will bankruptcies.
But companies with developed operations, with producing wells in low-cost development basins, and with manageable debt, will be able to time production, thereby improving price per barrel at the wellhead (where the producer is paid) while stabilizing the broader market.
The days are gone when producers were forced to flood the market in a desperate attempt to stay in business. Prices at current levels allow surviving companies to plan production, and that sustains a higher pricing range.
All of this has the net effect of raising prices.
And Moors has found the easiest way for Money Morning readers to start profiting from this trend now…
The Easiest Way to Profit Today from Our Oil Price Prediction