An Uber flying car is getting closer to reality, but we have a better way to invest in "flying taxis," and you don't have to wait for the 2019 Uber IPO…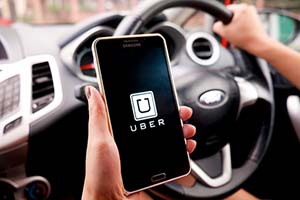 "One company I've followed closely for decades just bought a startup focused on autonomous air taxis," Money Morning Director of Technology & Venture Capital Michael A. Robinson said on Oct. 18.
"And I believe that company is the single best way to play this emerging tech trend," said Robinson.
Yes, flying cars seem like just a fantasy right now, but that isn't stopping companies from trying to develop them.
Uber hopes to have its own aerial taxis in Los Angeles, Dallas-Fort Worth, and Dubai by 2020.
In the promotional video below, you can see how it will work.
But while Uber's goals are at least three years away, Robinson has a way to make a profit right now from flying vehicles. A 100-year-old company just bought a startup in October that has already tested flights and that could make flying taxis a reality.
One brokerage firm projects the stock price for this company will climb 24% in the next 12 months, according to FactSet. That estimate could be conservative now that this company is set to beat Uber into the flying car industry…
NEW: Plot your course to a seven-figure weed windfall with the top pot stocks from every ecosystem – growers, edibles, dispensaries, and more. Read more…
That isn't even counting the $1.42 dividend it pays, which is a yield of 2.18%.
Here's exactly how to profit…
How to Make a 24% Gain on Flying Cars Right Now