Halloween already seems like a distant memory, but it may have marked an interim bottom for the silver price.
That day was when silver prices fell 0.9% to close near a four-week low of $16.69. So far, the price of silver hasn't stabilized above the $17 level since declining 6.7% from its Sept. 12 peak of $18.12. But it's managed to trade in a narrow $16.87 to $17.14 range over the last week, and I think this indicates bullish momentum is building for the metal.
The U.S. Dollar Index (DXY) – which measures the dollar against other currencies like the euro and Swiss franc – has also pulled back from 94.91 to 94.14 today (Tuesday, Nov. 14). Meanwhile, the Dow Jones has been largely flat this month, down a small 0.07% since Nov. 1.
As much as silver prices may be a bargain today, it's silver stocks that deserve the most attention right now…
Other than uranium, I can hardly think of a sector that's been beaten down by traders like silver has. The Global X Silver Miners ETF (NYSE Arca: SIL) – which tracks the performance of silver mining stocks – is down 11.4% over the last month, to its lowest level since April 2016.
The value of the silver stock sector right now makes for one of my most promising predictions of the year.
That's why I'm not only going to give you my bullish silver price target for the end of the year, but also my bullish prediction for how much gain silver stocks are in for before 2018. Let's just say I forecast silver stocks to outperform the silver price by as much as 55.5% by the end of December.
First, let's take a closer look at the silver price's performance over the last week…
Silver Price Falls 0.2% in the Last Week (Nov. 7-14)
After settling at $16.94 on Tuesday, Nov. 7, silver prices shot above the $17 level as the DXY traded flat for most of Wednesday's session. The DXY fell from 94.91 to 94.87, pushing the metal up to $17.14 by the close. That marked a 1.2% gain from Tuesday's close.
On Thursday, prices declined despite the DXY dropping from 94.87 to 94.44. Silver opened at $17.02 but fell back to $16.98 by the close for a 0.9% loss on the day.
Urgent: Executive Editor Bill Patalon just saw something on his precious metals charts he's only seen twice in 20 years. He calls it the "Halley's Comet of investing" – and it could lead to windfall profits. Read more…
The price of silver's decline continued into Friday, when the metal repeated behavior from the previous session. The metal opened above the $17 level again, at $17.06, before falling below it again, to $16.87, by the close. That marked a 0.6% drop on the day, which happened even as the DXY tumbled from 94.44 to 94.39.
Here's a look at the DXY's performance over the last five trading days…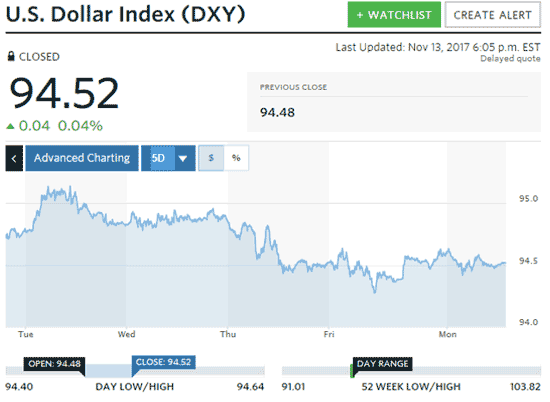 Silver buyers returned yesterday (Monday, Nov. 13) to give prices a much-needed boost. Even as the DXY jumped from 94.39 to 94.52, the silver price climbed 1.1% throughout the day to settle at $17.05.
But silver prices today (Tuesday, Nov. 14) are back below $17 this morning. They're currently down 0.8% and trading at $16.91. If the metal closes at that level, it will have posted a weekly decline of 0.2%.
Despite being on track for a weekly loss, I think silver's recent performance shows a bullish pattern forming. That's why I think my bullish silver price target is still attainable before the end of the year.
But, as I mentioned earlier, I believe silver stocks have even more promising potential, which is why I'm going to show you my extremely bullish silver stock forecast for the rest of 2017…
My Bullish Forecasts for Silver Prices and Silver Stocks Before 2018
Join the conversation. Click here to jump to comments…
About the Author
Peter Krauth is the Resource Specialist for Money Map Press and has contributed some of the most popular and highly regarded investing articles on Money Morning. Peter is headquartered in resource-rich Canada, but he travels around the world to dig up the very best profit opportunity, whether it's in gold, silver, oil, coal, or even potash.