The next recession could devastate the stock market, wiping out trillions in everyday Americans' retirement and investment funds. Fortunately, you can protect your hard-earned money from even the most severe crises with three easy steps.
Today, we'll show you exactly how to do that...
Economists define a recession as two consecutive quarters of negative GDP growth. Everyday Americans like us think of job losses and tighter wallets when the term comes up.
And right now, Americans are unprepared for the next recession...
According to a 2015 Federal Reserve survey, one-third of Americans reported they couldn't cover their expenses for three months if they lost their income. That's even if they used their retirement accounts as a lifesaver.
Part of that could be the result of consumer debt now approaching its 2008 levels, when it reached its all-time peak. Plus, debt is growing fast. Americans added $460 billion in debt this year alone, the largest increase in 10 years.
But financially sound Americans are not immune from a recession either, especially those with retirement investments and 401(k) accounts. After all, recessions do the most damage to the stock market.
There have been seven recessions since 1970, and they've all sent stocks tumbling...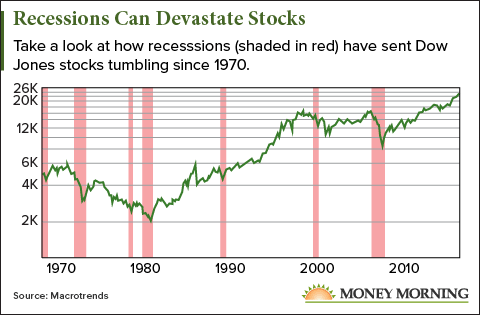 The worst recession - also known as the Great Recession - caused the S&P 500 to lose 52% of its total value between 2008 and 2009.
Over $6 trillion evaporated in a matter of months.
You could have lost more than half of you money if your retirement investments were in a popular exchange-traded fund (ETF) like the SPDR S&P 500 ETF (NYSE ARCA: SPY). It could have been even worse if you were holding large-cap stocks like General Electric Co (NYSE: GE), which fell by 81% between the beginning of 2008 and March 2009.
With potential losses like these, investors and retirees need to have a plan in place in case the worst happens.
And the next recession might be closer than many think. One of the best indicators of a recession is an inverted yield curve, a scenario where long-term bonds have lower yields than short-term bonds. Right now, that curve is shrinking to its flattest level in a decade, which means an inversion is possible soon. Tighter monetary policy from the Fed could push the curve to invert, and the Fed is expected to hike rates four more times by the end of 2018.
Urgent: Feds use obscure loophole to threaten retirees. If you have a 401(k), IRA, or any type of retirement account, this could cause you to miss out on $68,870 or more. Learn more...
While we can't predict when the next recession is coming, we do know they have happened routinely throughout history. There's simply no reason for investors to be complacent and expect the stock market's recent gains to continue indefinitely.
But investors can protect their money - and even profit - during an economic downturn.
We'll show you three defensive strategies for safeguarding your assets during a recession, plus one way to profit if stocks fall.
With these strategies, you'll not only protect your money, but you could also profit when others panic...
Your Strategy for the Next Recession, No. 3: Buy "Unstoppable Trend" Stocks
With stocks dropping during the last seven recessions, you might not think staying in the stock market is a good strategy. But in reality, fleeing stocks could hurt your wallet more than help.
There's simply no way to precisely time when the stock market will rise or fall.
Just look at the election last November. Investors who stayed out of the stock market since Nov. 8, 2016, have missed out on over 30% market gains.
That's why Money Morning Chief Investment Strategist Keith Fitz-Gerald recommends owning shares of resilient, in-demand companies that are less susceptible to the impact of market swings.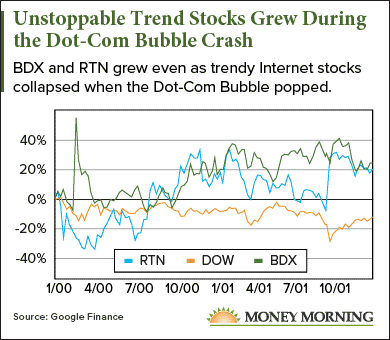 The trick to making huge profits is to find "must-have" companies that fall into what Keith Fitz-Gerald calls the six "Unstoppable Trends": medicine, technology, demographics, scarcity and allocation, energy, and war, terrorism, and ugliness (known collectively as "defense"). The Unstoppable Trends are backed by trillions of dollars that Washington cannot derail, the Fed cannot meddle with, and Wall Street cannot hijack.
Two of the best stocks to own in the Unstoppable Trends are Becton, Dickinson and Co. (NYSE: BDX) and Raytheon Co. (NYSE: RTN). BDX is a leader of both medicine and demographics trends, while RTN is a top player in the war, terrorism, and ugliness trend.
And because these companies are always in demand no matter what else is going on in the economy, they are more resilient than the broader market.
Check out how they performed during the recession in 2000 in the chart to the right. Not only did both companies beat the Dow Jones Industrial Average during the recession, but their share prices actually rose, making their investors a profit.
Your Strategy for the Next Recession, No. 2: Buy Gold
Gold is the most well-known safe-haven asset due to its stability during times of economic turmoil.
"Gold is a good 'store of value' when uncertainty gets out of hand," according to Money Morning Executive Editor Bill Patalon. "And we're definitely deep into what I refer to as the 'Era of Uncertainty.'"
Now, throwing all of your retirement savings into gold isn't a good idea. Gold prices appreciate, but slowly, and it's mostly useful as a hedge.
That's why Fitz-Gerald says tucking away 2% to 5% of your investment capital into gold is the best way of adding stability to your overall portfolio. That way, you won't miss out on stock market growth.
While investors can buy physical gold - like bars or coins - we recommend an easier investment for retail investors.
The Ultimate Retirement Action Plan: This Could Mean the Difference Between "Adequate" Savings and the Retirement of Your Dreams. Click Here Now...
Fitz-Gerald recommends the SPDR Gold Trust ETF (NYSE ARCA: GLD).
It's cheaper than buying gold by the ounce, but the ETF is designed to mirror gold's price movements. That way you get the same benefits of owning gold with the ease of trading a stock.
Patalon says investors can go a step further and profit from gold by owning gold mining stocks.
One of his favorites is Goldcorp Inc. (NYSE: GG), an innovative Canadian gold miner. Goldcorp is currently using artificial intelligence to process its geological data to find the best fields to mine gold.
It's no surprise, then, that Wall Street analyst are projecting GG stock could gain 50% over the next year, jumping from $13.24 a share all the way to $20.
But for investors looking for profits during a recession, we have a more aggressive profit strategy.
In fact, this strategy bagged investors 72% gains during the Great Recession...
[mmpazkzone name="in-story" network="9794" site="307044" id="137008" type="4"]
Your Strategy for the Next Recession, No. 1: Short the Market
Shorting stocks can be risky, exposing short-buyers to potentially infinite losses. But it doesn't have to be this risky...
Investors can own funds that short the broad market averages. Because they are ETFs or mutual funds, investors can only lose the amount of money they put into the fund. But they allow their owners to profit as the overall market falls.
Fitz-Gerald recommends the Rydex Inverse S&P 500 Strategy Fund (MUTF: RYURX), a mutual fund that trades inversely to the S&P 500. But again, these types of funds are short-term investments and only for investors willing to take on risk.
Between May 2008 and March 2009, RYURX gained 72% while the S&P 500 lost more than half its value. That means investors who enter this fund just at the beginning of a recession won't only beat the market, but book double-digit profits.
Now, just because a fund like RYURX doesn't expose investors to unlimited losses doesn't mean it carries no risk.
Fitz-Gerald reminds everyone that this is not a "set it and forget it" play. If the market improves, this fund's price will fall.
That means investors should only risk what they're willing to lose, which is probably no more than 5% of a portfolio.
Seventeen Triple-Digit Winners This Year... and Counting
Keith Fitz-Gerald's Money Map Report subscribers who have followed along with his recommendations are now sitting on 17 triple-digit winners this year - including a 201.68% return and 132.35% gain that closed out in the same week.
Each week, Keith shows everyday Americans how to tap into the world's biggest high-profit trends, ahead of the crowd.
There's nothing complicated or overly risky - and no guesswork involved.
Right now he's looking at another double-your-money opportunity, and there's still time to get in on it. Find out how to subscribe and access all of Keith's recommendations by clicking here now.
Follow Money Morning on Twitter @moneymorning, Facebook, and LinkedIn.