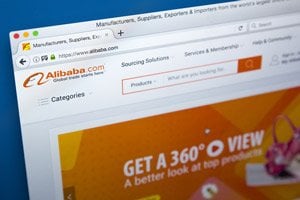 We here at Money Morning think that Alibaba Group Holding Ltd. (NYSE: BABA) is a must-have stock for the long term. Understandably, its high share price can be intimidating. Tuesday, it traded near $182 per share.
But what if there were a way to profit from Alibaba stock without having to buy the stock itself? And what if the trade was low risk?
Well, Money Morning's options trading specialist, Tom Gentile, has a great way to profit from Alibaba stock in the short term. And his strategy is even easier than you think.
Before getting into the nitty gritty of the strategy, let's talk about why we're so bullish on Alibaba stock for the long term.
Alibaba Stock Is One of the Best Long-Term Buys on the Market
If you're looking for a long-term investment, buying shares of Alibaba stock is still an excellent option. In fact, readers who followed Money Morning Executive Editor Bill Patalon's recommendation in 2014 have already seen gains of 94%.
Alibaba is China's largest retailer, and according to Forbes, is the sixth-largest retailer in the world. Clearly, the company is so much more than just "the Amazon of China." While Amazon.com Inc. (Nasdaq: AMZN) is one of the greatest success stories of our time, such a comparison does not do Alibaba justice.
For starters, Alibaba dominates China's e-commerce industry, and that's a big deal, since China is the world's largest e-commerce market. Sales there could reach $2.4 trillion by 2020, according to eMarketer. But again, there is much more to the story than the e-commerce space – providing a third-party platform for other retailers, offering cloud computing services, data management, and the Alipay online and mobile payment solution.
Editor's Note: Tom has used this pattern to show readers triple-digit gains in one or two days. Click here to learn more…
Alibaba is perfectly positioned to take advantage of China's new trillion-dollar "One Belt, One Road" Initiative. This is a massive, transcontinental infrastructure initiative, started in 2013, meant to expand trade across 68 countries throughout Asia, Eastern Europe, and Africa. The plan includes over $1 trillion in infrastructure investment across the region.
One Belt, One Road is going to boost Alibaba stock even further by helping build up neighboring economies and connecting them to China. The company will be able to expand its customer base on a global scale, all while the Chinese government foots the bill. That's not to mention what a growing Chinese economy will do for Alibaba's profits.
The Best Way to Profit from Alibaba Stock in the Short Term