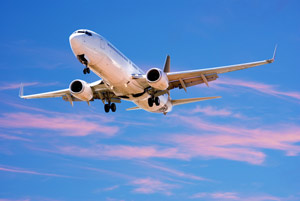 Discount airliners have replaced the major carriers as the best airline stocks to buy for 2018. But discount fares aren't the only reason these three airline stocks are taking off...
The biggest catalyst for the best airline stocks in 2018 will be new aircraft technologies, like modular cabins and more fuel-efficient engines.
Not only will these breakthroughs provide passengers with more comfortable flying experiences, but they'll also lead to lower prices.
The Bombardier C Series airplane is the perfect example. Each plane has fewer seats, giving passengers more room, while more fuel-efficient engines and lighter aircraft materials reduce fuel consumption by as much as 25%.
This Book Could Make You a Millionaire: The secrets in this book have produced 42 chances to double, triple, and even quadruple your money this year alone. Claim your free copy...
These airplanes are currently only operated by Swiss Global Air Lines and airBaltic, but it's only a matter of time before low-cost carriers adopt these technologies.
According to The Wall Street Journal, low-fare seating has increased as a percentage of total seating industry-wide. From 2005 to 2016, that figure has increased by 7.3% in North America, 18.5% in South America, and an astounding 42.1% in South Asia.
Low-cost carriers now comprise 37.3% of the U.S. domestic airline market, an increase of 5.8% since 2007. On the other hand, all three of the major U.S. carriers - United Continental Holdings Inc. (NYSE: UAL), American Airlines Group Inc. (NYSE: AAL), and Delta Air Lines Inc. (NYSE: DAL) - have seen their share of the domestic market decrease over the same period by 4.5%, 2.9%, and 0.7%, respectively.
That's why we recommend avoiding the three major carriers.
And we don't expect these problems to get better for them in 2018 as oil prices rise and their massive fleets of Airbuses and Boeings become outdated.
Plus, as low-cost carriers add more international routes, UAL, AAL, and DAL shares will do even worse...
Best Airline Stocks No. 3: Southwest Airlines (NYSE: LUV)
Low-cost pioneer Southwest Airlines Co. (NYSE: LUV) continues to dominate the U.S. domestic market thanks to its cost advantage over its competitors.
The company keeps maintenance costs down by running fewer models of planes. While major carriers like Delta have as many as 20 different models of Boeing and Airbus planes, Southwest only has Boeing 737s. This has allowed it to secure its position as the leading discount carrier in the United States by keeping its ticket prices lower than the other major carriers. In fact, Southwest controls almost 25% of the entire U.S. domestic airline market.
But the biggest long-term driver of Southwest's growth will come from international expansion.
In the company's Q3 2017 earnings call, on Oct. 26, CEO Gary Kelly said revenue per available seat mile for international routes had increased 8% from the same quarter in the prior year.
Southwest could beat earnings expectations next year if its new flight service to Hawaii, starting in 2018, pays off for the company. According to one analyst, who has a price target of $80, shares of LUV could climb as much as 50% next year.
The stock currently trades at $53.75, with 17 "buy" or "outperform" recommendations, four "holds," and zero "sell" or "underperforms," according to S&P Capital IQ.
Best Airline Stocks No. 2: Spirit Airlines (Nasdaq: SAVE)
Spirit Airlines Inc. (Nasdaq: SAVE) offers some of the cheapest tickets in the industry. The company offers "bare fares" that will get just you and a "personal item" smaller than an 18"x14"x8" to your destination.
These tickets can cost as little as $52.20 for a nonstop, one-way flight from Baltimore to Las Vegas. The same flight on the same day would cost $148.80 on Delta.
But with Spirit, additional carry-on bags, a roomier seat, or an in-flight refreshment all come with an extra charge. For the most budget-conscious traveler, Spirit reigns supreme. That virtually guarantees it will always be in demand.
Spirit can offer such low ticket prices because it has the lowest "cost per seat mile" (excluding fuel) of any American carrier, at $0.058. The next cheapest cost per seat mile comes from Southwest, at $0.087. The major carriers United, American, and Delta all have costs per seat mile of $0.10 to $0.105.
Another advantage Spirit has over the major carriers is the ability to selectively expand.
For instance, flights out of Fort Lauderdale, Fla., comprise 28% of the company's total capacity. Recognizing that, the company's management continued increasing the number of flight destinations, according to CEO Robert Fornaro during the company's Q3 2017 earnings call. This strategic approach lets Spirit incrementally increase its capacity and drives long-term growth.
Currently trading at $36.53, the 14 analysts covering Spirit have an average price target of $41.14. One analyst has a target as high as $50. Those price targets represent an upside of 12.62% and 36.87%, respectively.
But this next stock has the highest potential upside among the three stocks we're recommending today...