There's been a 180% surge in Florida medical marijuana patients since June, which is fueling your next profit opportunity…
Florida just legalized medical marijuana on Nov. 8, 2016. Arcview Market Research projects medical cannabis sales in Florida will reach $1.6 billion by 2020, helping grow the legal, $6.7 billion North American industry.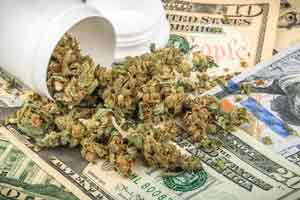 Florida's $1.6 billion in projected sales would be 23% of all legal North American marijuana sales, based on 2016 data.
This sort of explosive growth in just one state is a sign of the growth potential fueling North American pot stocks.
And those revenue projections for 2020 may be too conservative, as Florida's Office of Medical Marijuana Use has not been able to keep up with patient applications…
Why the Florida Marijuana Market Will Create a Gold Mine
From data the Florida Office of Medical Marijuana Use collected on June 7, 2017, 16,760 patients registered for medical marijuana use in Florida. By Oct. 26, that number had jumped to 46,952.
That's a 180% increase in patients in roughly five months.
And the Florida Office of Medical Marijuana Use has not had enough staff to keep up with patient requests, according to MJBizDaily.com.
But it better get ready, as triple-digit patient increases are on the way…
By March or April 2018, Ben Pollara, the executive director of Florida for Care, expects patient counts to reach 100,000, according to MJBizDaily.com.
That's another 112% increase in just four or five months.
Video
Did Jeff Sessions Just Admit He Can't Stop Marijuana Legalization?
Ahead of this surge in sales, some marijuana stocks are already seeing triple-digit gains of 224%… 378%… even an exceptional 751%.
We've made it easy for you to learn how to get started yourself with a unique "pot investment" plan.
As a service to Money Morning readers, we're now making available our 89-page cannabis investing guide, The Roadmap to Marijuana Millions.
Here's how to stake your claim in the cannabis industry before it reaches $20 billion in sales by 2020…
How to Cash In on the Future $20 Billion Cannabis Industry