The next stock market crash could arrive sooner than you might think…
Since hitting its 2017 high on Nov. 8, the Dow Jones has steadily fallen, declining over 1%.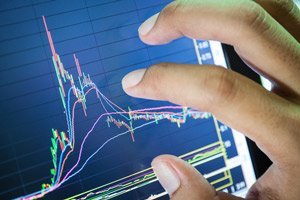 And as the eight-year-long bull market lumbers on, we're seeing more and more stock market crash warning signs.
Now, that doesn't mean we expect an imminent stock market crash. In fact, the market could run even higher. But even though we aren't making a stock market crash prediction, we do want our readers to be fully prepared.
Being prepared includes knowing the warning signs the media are glossing over and knowing how to protect your money if there is a market crash in 2018…
2 Stock Market Crash Warning Signs for 2018
First, the U.S. Federal Reserve is committed to hiking interest rates, and the tighter monetary policy could have a dramatic impact on the markets.
The period of historically low interest rates since 2008 have helped fuel the stock market's dramatic rise. By raising rates – and pulling liquidity out of the market – stocks could see a drop.
Urgent: Feds use obscure loophole to threaten retirees. If you have a 401(k), IRA, or any type of retirement account, this could cause you to miss out on $68,870 or more. Learn more…
When the Great Recession hit in 2008, the Fed took drastic measures to boost the economy. It slashed interest rates from over 5% to just 0.25%, its lowest rate ever. The low interest rates made borrowing money as cheap as ever in the hopes of encouraging businesses to borrow and expand, even though the economy was stagnant.
On top of that, the Fed injected even more money into the economy through its quantitative easing program, ballooning its balance sheet to a staggering $4.5 trillion.
Now, the Fed is reversing course on both measures.
The Fed has hiked rates four times since 2015, and interest rates are now above 1% for the first time since 2008. Plus, the Fed is expected to hike rates another four times by the end of 2018 – pushing rates above 2% – and unwind its $4.5 trillion balance sheet.
That will pull money out of the stock market, just as the Dow is beginning to fall from record highs.
Second, the Fed spending spree helped push stocks to some of their highest valuations ever.
Between 2009 and 2016, when the Fed had rates under 1%, public companies borrowed $1.9 trillion. And that borrowing spree helped finance $2.1 trillion of share buybacks by these publicly traded companies. In other words, they took cheap loans to buy shares of their own stock, boosting their stock prices.
That sent the stock market valuations to historically high levels.
According to the Cyclically Adjusted Price Earnings (CAPE) ratio, one of the best measures of stock valuation, stocks are currently valued at more than 86.9% of their historical average. And with a ratio of 31.4, the stock market has only ever been valued more highly twice: in 1929 and 1999. The stock market crashed both times.
That doesn't mean a market crash in 2018 is a certainty, but it means investors can't afford to be complacent just because stocks have soared this year.
So we also want to show our readers how they can protect their wealth in the face of a market correction, or even a crash.
These are two of the best stocks to own when the market drops…
The Best Way to Prepare for the Next Stock Market Crash