Socially responsible investments (SRIs) align shareholders' personal values with profit opportunities, and investors are pouring their hard-earned money into ethical companies.
Between June 2015 and June 2017, investors paid more than $2 trillion for socially responsible investments, according to CNBC.
What makes these investments different are the companies' social, environmental, and governance philosophies.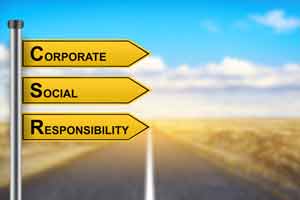 And thanks to the dividends of the three stocks we have today, shareholders feel even better following this new investing strategy.
Combined with dividend payouts and stock price increases, some of these socially responsible stocks have turned $10,000 investments into nearly $60,000 in the last 20 years. Those are the types of steady returns that give investors their dream retirements.
Now, it's true not every socially responsible company is worth investing in...
The iShares MSCI KLD 400 Social Idx Fd (NYSE ARCA: DSI) is an index that tracks "U.S. companies that have positive environmental, social, and governance characteristics."
But DSI has only climbed 17.58% in the last 12 months, while the Dow Jones Industrial Average has climbed 23.60% in that same time.
There are some laggards in DSI weighing it down.
That's why we did the research and found the top three holdings that are socially responsible AND will make you exceptional long-term profits.
In fact, one of the dividend payouts for this company has climbed over 8,300% over the last 30 years...
All three socially responsible stocks also have a dividend yield of at least 2.5%. In comparison, the average dividend yield of the S&P 500 is just 1.87%, according to Multpl.com.
Here's the first socially responsible dividend stock on our list today...
Socially Responsible Investments, No. 3: Clorox Co.
Clorox Co. (NYSE: CLX) has been in business since 1913 and is best known today for its bleach and disinfecting wipes.
But its diverse portfolio contains some of the most well-known brands, from condiments to cat litter, including:
Hidden Valley Ranch
Burt's Bees
Brita
Glad
Kingsford
Fresh Step
In terms of social responsibility, Clorox's 2020 Strategy plan guides its business on reaching goals for corporate responsibility, workplace safety, and philanthropy.
It also includes Clorox's goals for addressing environmental sustainability, diversity, and inclusion.
Thanks to its transparency, Clorox received the Most Innovative Corporate Social Responsibility Disclosure Policy Award from Corporate Secretary magazine in 2013.
This Book Could Make You a Millionaire: The secrets in this book have produced 42 chances to double, triple, and even quadruple your money this year alone. Claim your free copy...
The award recognized the company's "Think Outside the Bottle" report, which Clorox says was its first time combining its environmental, social, and financial performance in one report.
Clorox also founded the Clorox Company Foundation in 1980, which has given more than $100 million to nonprofit organizations, schools, and colleges.
And not only is Clorox a socially responsible company, it will also make shareholders more money.
In the next 12 months, financial service provider BMO Capital Markets projects the CLX stock price will climb to $150 per share. From today's opening price of $133.84, that's a potential profit of 12.07%.
Clorox also pays a dividend of $0.84, good for a 2.5% yield. Clorox has been increasing its dividend payout every year since 1977, but it wasn't until 1983 that the dividend payout reached $0.01 per share.
With the payout now $0.84 per share, that's an 8,300% dividend increase over 34 years.
And reinvesting those dividends has built a nice nest egg...
If you invested $10,000 in CLX on Nov. 17, 1997, when the stock price was $34.87 per share, your investment today would now be worth $58,513.87 if you had reinvested those dividends.
Video
Here's How DRIPs Work
That's a 485.13% return in 20 years.
During the same time, the Dow climbed just 208.62%. So, if you put your money in an index fund tracking the Dow's performance, your original investment would only be worth around $30,000 right now.
That's an extra $28,000 just for letting your dividends go to work for you...
The next stock on our list has been named one of the most ethical companies for three years straight.
It also rewards its shareholders with a $0.54 dividend, a 3.30% yield....
[mmpazkzone name="in-story" network="9794" site="307044" id="137008" type="4"]
Socially Responsible Investments, No. 2: Kellogg Co.
Kellogg Co. (NYSE: K), originally known as the Battle Creek Toasted Corn Flake Company, was founded in 1906 by W.K. Kellogg.
Kellogg and his brother, Dr. John Harvey, attempted to make granola in 1898, but they were unsuccessful.
However, their failure led them to the process of flaking wheat berry. That turned into experimenting with flaking corn, which created Kellogg's Corn Flakes.
The Kellogg Co. has expanded their empire since then, acquiring Pringles potato chips, Keebler foods, and the Eggo Co.
Aside from dominating the breakfast food category, Kellogg also places a great deal of importance on social corporate responsibility. Kellogg has pledged to "improve the livelihoods of more than 500,000 farmers by 2030."
In Europe, the company is supporting wheat farmers as they grow grains for their products. It's providing participating farmers with free soil assessments, in-field practical training, and access to farming experts.
By 2020, the company also wants to reduce energy use and GHG emissions in its plants by 15%.
This has led Ethisphere, a firm that shares data on ethical business practices, to name Kellogg as one of the world's most ethical companies for three years straight.
In the next 12 months, BMO Capital Markets expects the K stock price to climb to $78 per share. From today's opening price of $64.98, that's a potential profit of 20.03%.
The cereal giant also pays a dividend of $0.54, which is a yield of 3.30%. Kellogg first paid a dividend in 1925, but it wasn't until 1972 that the dividend reached $0.01 per share. Since then, the dividend has climbed 440% to its current payout of $0.54.
By reinvesting those dividends, a $10,000 investment on Nov. 17, 1997, would be worth $25,069.88 now, 20 years later.
That's a 150.69% return.
Now, those are smaller gains than the 206.82% gains of the Dow during that time. One of the reasons is that K had a poor Q2 2017.
Its Q2 2017 North American sales dropped 2%, and the Kellogg stock price is down 11% for the year.
Sales dropped in Q2 as consumers looked for fresher food with more natural ingredients, according to The Wall Street Journal.
The cereal maker is responding by making products with more natural ingredients, like its Eggo waffles, which no longer contain artificial colors.
With the stock price expected to climb 20% in the next 12 months and a 3.30% dividend yield, any price drop is a buying opportunity for K stock.
Socially Responsible Investments, No. 1: Procter & Gamble Co.
Procter & Gamble Co. (NYSE: PG) was formed in 1837 as a small soap and candle business. It's now worth $224 billion and sells everything from fabric softener to razors.
It's most well-known products include Vicks cough drops, Tide detergent, Pampers disposable diapers, and Head & Shoulders shampoo.
But even though Procter and Gamble has chemical products, it still believes in animal welfare.
PG does not test products or ingredients on animals unless it is required by law. The company is trying to make the practice obsolete, developing 50 alternative, non-animal testing methods for its products.
Aside from animal welfare, Procter centers its social responsibility on health and hygiene, to prevent illness and improve the lives of people in need.
Procter has provided 10 billion liters of clean drinking water to people in developing countries, as well as partnered with UNICEF to vaccinate women and children.
In the next 12 months, wealth management firm Hilliard Lyons projects the PG stock price will climb to $105 per share. From today's opening price of $88.95, that's a potential profit of 18.04%.
P&G pays its shareholders a dividend of $0.69, for a yield of 3.11%.
The maker of Tide paid a $0.12 dividend in 1997, and it's climbed 475% over the last 20 years, to $0.69 per share.
And if you had made a $10,000 investment on Nov. 17, 1997, and reinvested those dividends, your investment would now be worth $39,752.19.
That's a 297.52% return in 20 years.
Once again, parking your money in a fund tracking the Dow would only be worth about $30,000 right now.
The Bottom Line: Socially responsible investing has become more popular than ever. In fact, over $2 trillion has poured into socially responsible investments over the past two years. In that space, three of the best socially responsible dividend stocks are Clorox, Kellogg, and Procter & Gamble.
Up Next
What's in this book helped one reader make $185k in eight days.... With the secrets you'll find in this book, Money Morning subscriber Jamie Newton made a $185,253 profit in just over a week! Click here to learn how you can claim your free copy today.