China and South Korea have recently become a lot friendlier, implementing a policy that spells nothing but bad news for the United States.
Recently, China has changed its diplomatic tactics in an effort to hasten its global geopolitical and economic dominance in both the near and long term.
Beijing has done so by offering olive branches to its various neighbor nations - a move notably more benevolent than the Red Dragon's oppressive pressure tactics of yore.
For instance, on May 8, 2017, China pledged $24 billion in aid and investment to the Philippines - after which the small island nation ceased contesting China's sovereignty claims in the South China Sea.
Beijing also offered Malaysia $17.7 billion on Aug. 9 to subsidize a joint rail link project, touted as the most expensive infrastructure venture under China's ambitious "Belt and Road" Initiative.
Now China is working its magic on South Korea - and much to the U.S. military's detriment. Not that you need to worry; for investors, this is just another profit opportunity. A big one, at that.
Here's why Seoul is taking the bait - and the company that is set to profit from China's growing influence...
Why China and South Korea Are Saying No, No, and No to Global Security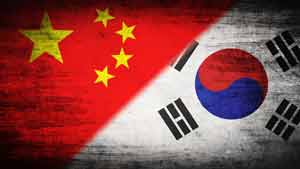 Though China has been bullying South Korea in recent years, the two countries have been all smiles and handshakes this past week.
You see, China used its economic clout to punish Seoul in July 2016 over its installation of the U.S. Terminal High Altitude Area Defense (THAAD) system - a powerful radar structure that Beijing fears can look deep into its territory, undermining its security.
So the Red Dragon boycotted Korean automobile products in retaliation.
According to the Hyundai Research Institute, on Nov. 7, Beijing's 16-month-long sanctions have cost Seoul $7.5 billion so far - or about 0.5% of the country's GDP.
Sales of Hyundai and Kia autos plummeted 64% and 51%, respectively, during that same span of time, reported Bloomberg on Sept. 11.
Editor's Note: Don't miss a single update from China as Beijing steps up its aggressive campaign to oust the United States from its pole position as global leader of military and trade. Get real-time alerts sent to your inbox, completely free, here.
But on Nov. 11, South Korean President Moon Jae In and Chinese President Xi Jinping agreed to "normalize exchanges," reported The South China Morning Post that day.
Specifically, the two leaders implemented that day what will henceforth be referred to as the "three no's" policy system on South Korea.
That means no further anti-ballistic missile systems in Korea, no joining of a region-wide U.S. missile defense system, and no military alliance involving Korea, the United States, and Japan.
These restraints all work against the U.S. military's ambition to expand its Pacific-region alliances to aptly defend against North Korea and its nuclear ambitions.
China Is Already Using Its New Friend to Punish Its Enemies
The new policy likewise works against South Korea's neighbor-ally, Japan, which has long held a contentious relationship with China.
Indeed, just yesterday news broke that, despite Seoul's 2016 agreement to share military intelligence with Tokyo, it has now limited the scope of that information-sharing to include only those related to North Korea's nuclear and missile program, reported Japanese newspaper Asahi Shim.
"Although South Korea's military shared its intelligence about North Korea's intermediate-range ballistic missile Hwasong-12 that flew over Japan on Aug. 12 and Sept. 30, it is now 'unwilling' to do the same with other military intelligence such as the Chinese military activities in the South China Sea," the newspaper stated.
Must See: The South China Sea is about to get violent. But thanks to a small $6 U.S. defense firm with a top-secret new technology, China is about to be taken to the woodshed. Read more...
Alongside these new China-South Korea military measures came the first signs of economic thaw, as well.
Two days after Moon and Xi's agreement, on Nov. 13, South Korean actress Jun Ji Hyun appeared in an ad for health products on China's biggest online shopping website Taobao - by Alibaba Group Holding Ltd. (NYSE: BABA).
And BABA is where investors stateside can play these recent geopolitical and economic changes in Asia right now.
Check out the buying strategy that showed readers 166% gains on this one stock...