Amazon.com Inc. (Nasdaq: AMZN) stock should be the first that comes to mind for investors as Cyber Monday approaches. If ever there was a company set to dominate its industry, it's Amazon. And Amazon stock has already rewarded shareholders generously with a 50% year-to-date gain.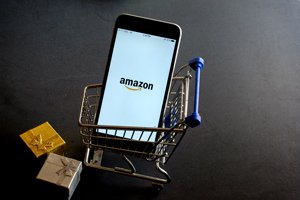 In fact, it's one of only a handful of stocks trading above the $1,000 per share level.
Of course, a high share price like that can be daunting. Thursday, it closed at $1,137.29 per share.
That should not be a problem for long-term investors, because owning a piece of such a top company, even if it is a small piece, is a good idea. However, if you don't want to lay out $1,137 per share, Money Morning's options trading specialist, Tom Gentile, has a great way to profit from Amazon's success at a much lower price point.
Not only that, but his strategy actually reduces risk...
Amazon Stock Remains a Must-Own for Long-Term Investors
If you're a long-term investor, the best option is still buying the stock and holding it. In fact, Money Morning Chief Investment Strategist Keith Fitz-Gerald recently told readers that Amazon stock could hit $2,000 in the next 18 months...
Amazon dominates the retail sector and commands the lion's share of American online shopping dollars. According to the researcher Cision, Amazon is expected to account for 43% of all e-commerce sales. Industry wide, e-commerce sales are up 53% in 2017.
Look for the X: This mysterious "X" pattern predicts which stocks are going up - with 100% certainty. Some have gained as much as 225% in 15 days and 264% in less than a month. Learn more...
Even though other "traditional" retailers, like Wal-Mart Stores Inc. (NYSE: WMT), are beefing up their efforts to sell online, Amazon is still the online retail juggernaut largely responsible for their declining sales and traffic.
Look at Amazon's competitive position. Unlike a manufacturer, Amazon can add a million customers at a click of a button or by merely releasing a few lines of code. It can expand its reach in a way that other retailers simply cannot.
And it does not stop with retail. Amazon now offers streaming video and music, cloud storage, and payment services.
It goes even deeper. The recent acquisition of organic grocer Whole Foods Market Inc. will leverage Amazon's digital assets. Just think about how Amazon Echo, Alexa, and Dash products could make ordering easier than even sitting down with a smartphone.
But if you would like a short-term plan to profit sooner, Gentile recommends a strategy using options. And it won't require you to put down $1,137 per share...
The Lower-Risk Way to Profit from Amazon Stock Now