Investors won't be able to find the Postmates stock price until the company goes public. But with shares of rival GrubHub Inc. (NYSE: GRUB) netting 75.54% returns so far in 2017, the Postmates IPO will be one of the hottest IPOs on the market.
CEO Bastian Lehmann plans to take the company public in 2019, according to Forbes, so there won't be a Postmates stock symbol until then.
But investors are still anxious to get into the growing food-delivery market…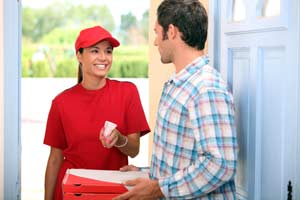 The value of the U.S. food home-delivery market is expected to climb from $43 billion in 2017 to $76 billion by 2022, according to investment firm Cowen.
That's a 76.74% increase in just five years, and the industry growth leaves investors wondering if the Postmates IPO date is worth the wait…
Should I Wait to Buy Postmates Stock?
Investors attracted to this growing market could buy GRUB now or wait for the Postmates IPO. It turns out, there's an even better option…
Over the next 12 months, financial firm Craig Hallum Capital Group projects the GRUB stock price will climb to $80 per share.
From the opening price of $65.69 on Nov. 21, that's a potential profit of 21.78% over the next year.
But GRUB stock currently trades 91% above its opening price from when it went public in 2014. And if you're hoping to net similar gains with Postmates, you'll have to wait two years before it goes public.
That's why we're showing you another, even better option to profit from the home-delivery market.
You see, we do believe the U.S. food home-delivery market is more than just a trend. The apps for GrubHub and Postmates make ordering food and having it delivered from your favorite restaurant as easy as just pressing a few buttons on your smartphone.
That's one of the reasons why the market is expected to grow from $43 billion this year to $76 billion by 2022.
This is creating a profit opportunity, but we aren't recommending GrubHub or Postmates stock.
We found a third option that's going to be even more profitable than owning shares of GrubHub or Postmates.
BRILLIANT: Average Americans Are Becoming Marijuana Millionaires
This investment allows you to own a $525 billion tech juggernaut that could dominate the online food-ordering industry.
And in the next three years, Money Morning Director of Technology & Venture Capital Research Michael A. Robinson projects this investment could climb by 39.54%…
Your Next Double-Digit Profit Opportunity in the Food Industry