The Dow Jones just broke its record high yesterday (Nov. 21), but that doesn't mean a 2018 stock market crash is a distant possibility…
No one can ever say for sure that a market crash, or even a correction, is going to happen. And we aren't predicting a stock market crash either.
But a 2018 stock market crash is possible, and we want our readers to be as prepared as possible…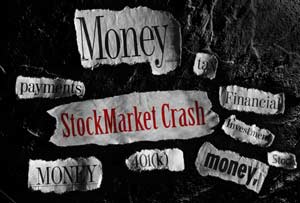 That's because a market crash could be devastating to investors. Losses of 10% to 80%, or even more, can occur in stock market crashes.
With the Dow up nearly 20% this year alone, and more than 250% since the bull market began in March 2009, some investors are willing to be complacent about the dangers in the stock market.
To avoid devastating consequences, it's important to be prepared.
And to help you prepare, here are two of the stock market crash warning signs we're following now, plus our proven strategy on how to protect your money without leaving stocks…
Two Reasons We Believe a Stock Market Crash in 2018 Is Possible
There are two reasons a stock market crash in 2018 is possible, even if it's unlikely.
First, the U.S. Federal Reserve is tightening monetary policy, and that could pull money out of the stock market.
During the economic meltdown of 2008, the Fed combated the Great Recession by cutting interest rates and buying up toxic assets. It slashed interested rates from over 5% in 2007 to a mere 0.25% in 2008, while building up a balance sheet of $4.5 trillion in debt.
Urgent: An $80 billion cover-up? Feds use obscure loophole to threaten retirees… Read more…
The low interest rates and debt-buying program were meant to inject money into the economy. Companies could borrow money cheaply to expand their businesses even as the economy shrank.
And companies did take advantage of the falling costs of borrowing, except they repurchased shares of their own stock.
Between 2009 and 2016, public companies borrowed $1.9 trillion while buying back $2.1 trillion of their own shares.
That's part of the reason stock prices have soared. But the Fed is raising interest rates in a hurry, ending the cheap money policies that helped boost stocks since 2008.
Starting in December 2015, the Fed began to raise rates. This year, interest rates rose above 1% for the first time since 2008. And with four more rate hikes scheduled by the end of 2018, interest rates will rise above 2% by the end of next year.
Second, the soaring stock prices aren't backed up by strong economic growth.
You see, stocks are near all-time highs, and they are more expensive now than ever. Normally strong earnings growth pushes share prices higher, but now we're seeing stocks soar well above the company's profit growth. That's a sign that stocks are overvalued, and it means they could fall back to their average value eventually.
Let's look at the Shiller Price-Earnings (P/E) ratio. Currently, it stands at 31.42, nearly 87% higher than its historical average.
And the P/E ratio has been higher than its current level only twice in history.
The first was in 1929, prior to the stock market crash that brought on the Great Depression. The second was in 1999, right before the tech bubble burst in 2000.
Now, the overvaluation of the stock market doesn't by itself mean that a 2018 stock market crash is coming. Markets can drop over time in a way that will bring valuations back to average levels and that doesn't include a crash, which is sharp and sudden.
But no one knows how the market will react, especially to rising interest rates, or even the next recession.
That's why we want to show you how to protect your money no matter what the market is doing. And these two stocks actually gained during the 2000 market crash…
2 Stocks to Protect Investors from a 2018 Stock Market Crash