Just this year, Money Morning Chief Investment Strategist Keith Fitz-Gerald has shown his readers 45 triple-digit winners.
And that number is only growing...
Average weekly gains were at 59% last year... and quickly grew to 127%... then 210%... then 313% during this past October.
So how is he finding these massive wealth-generating plays?
He's identified one market "signal" that stands out from the rest.
And it all comes down to one shape. An "X," to be specific.
You see, Keith is a longtime advocate of "momentum investing," which means he uses a unique system based on trends to identify when the price of a stock is going up or falling.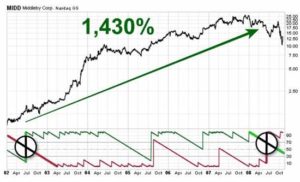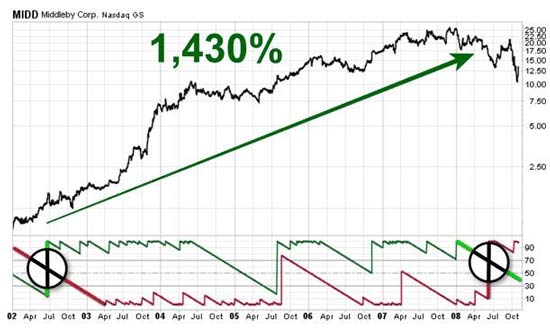 His distinctive trading strategy and analysis has landed him exclusive spots on Fox Business Network's "Varney & Co.," CNBC, and CNBC Asia. His observations have been featured in Bloomberg, The Wall Street Journal, WIRED, Forbes, and Marketwatch.
And he's spent the past decade researching and analyzing a unique trading strategy that is a mathematical measure of momentum - of money moving in and out of a stock.
It's a powerful indicator that's not reliant on bull markets, bear markets, interest rates, or anything else...
And it could help you become richer than you ever imagined.
In fact, he's calling it the most "lucrative discovery" he's ever shared in his 35-year career in the markets...
He's named it the "X" pattern - and it's a proprietary strategy that's as simple as spotting an "X" on a chart.
This Guy Put Up $9.75 Million: His deceptively simple theory? Regular folks could pull down enough wins to turn a small stake into $813,800 in a year with this. Learn more...
These "Xs" show up in dozens of stocks every day - no matter what's happening in the market.
You buy stocks when you see the first "X," and sell them when you see it again. It's THAT simple.
Forget about the complicated market analysis, the Ph.D. in rocket science, or advanced statistics that Wall Street would have you believe are important to the pursuit of profits. Instead, take your cue from where the money is already moving, pick your price, and get on board when the timing is right.
The gains we're seeing from this are stunning (and still accelerating).
Keith has gone from showing his readers 59% total gains per week on average in 2016 to 127% in 2017... 210% per week in the last quarter... and now 313% total per week this past October.
And that's all of his recommendations, including full and partial closeouts, winners and losers.
Keith has already shown his readers how to close out 81 winners this year - and 45 of those were triple-digit windfalls.
Now, he's willing to bet that this "X" strategy will deliver you the chance at life-changing profits of at least 350% total gains per week, on average (including full and partial closeouts), between now and the end of 2018.
That's like turning a single $5,000 stake into a total of $17,500 in extra cash every week...
Over $75,800 per month...
...And $910,000 per year.
Keith's readers are already getting the chance to make this much money right now because of these simple "Xs," and we don't want you to miss out.
Click here for everything you need to follow this trading strategy yourself.
Follow Money Morning on Twitter @moneymorning, Facebook, and LinkedIn.
[mmpazkzone name="end-story-hostage" network="9794" site="307044" id="138536" type="4"]