On the surface, this week's release of the last FOMC meeting minutes pushed the price of gold closer to the all-important $1,300 level once again.
But the effect was short-lived, and over the next couple of days, gold prices retreated back to around the $1,290 level.
Despite the limited reaction by gold, perhaps more important was the dollar's response.
The market seems to have focused on some Federal Reserve policymakers highlighting concerns over "persistently weak inflation data," possibly leading to a "decline in longer-term inflation expectations or may have done so already."
Urgent: Executive Editor Bill Patalon just saw something on his precious metals charts he's only seen twice in 20 years. He calls it the "Halley's Comet of investing" – and it could lead to windfall profits. Read more…
That smacked the U.S. Dollar Index (DXY) down 150 basis points over the past four trading days. As it turns out, the market's suddenly become a lot less certain of a December Fed rate hike, and it is likely factoring in an even more dovish rate-hiking cycle than before.
The DXY's price action bodes poorly for the dollar and bodes well for precious metals. We'll have to watch the dollar closely to see if its recent counter-trend rally has, in fact, come to an end.
But before we get into the outlook for gold prices, here's how the precious metal trended last week…
Why the Price of Gold Was Mostly Flat Last Week
Gold faced a strong headwind on Monday, Nov. 20, as the DXY launched a strong rally. That took it from around 93.6 in the very early morning to near 94.10 by early afternoon. That strength stifled the price of gold, which opened at $1,292 but rapidly sold off to $1,276 by 1:00 p.m. As the dollar remained high, gold was unable to regain any ground and closed at $1,276.
On Tuesday, gold moved sideways along with the dollar. Gold opened at $1,277, then rose to $1,282 by 10:00 a.m., but sold back down to close at $1,280. All the while, the DXY traded in a narrow range, hovering around 94 most of the day.
Then on Wednesday, as if sensing FOMC discord and a heightened possibility of lower rates for longer, the DXY began to sell off well ahead of the 2:00 p.m. minutes release. The DXY would tumble from 93.85 at 8:00 a.m. to 93.25 by 5:00 p.m., shaving a full 60 basis points off in just nine hours. That would pump up gold prices, which opened at $1,284, peaked $10 higher at 3:00 p.m., at $1,294, and then backed off to $1,292 by 5:00 p.m.
Here's the week's DXY action…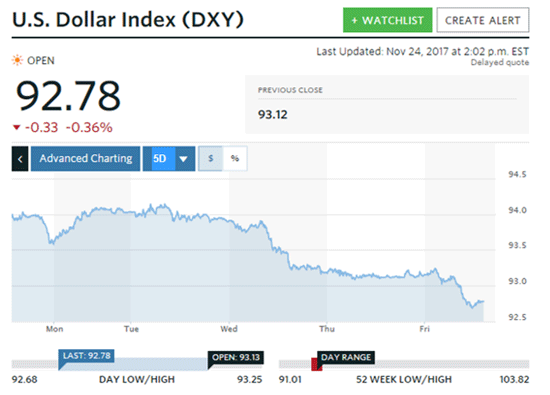 On Thursday, the dollar consolidated low around 93.15 for pretty much the entire day.  Consequently, gold looked pretty quiet too. It opened at $1,291, then, thanks to a shortened Thanksgiving trading day, ended at that same level.
On Friday, the dollar would face another bout of weakness, selling off from around 7:00 a.m. at 93.10 to 92.70 by 11:00 a.m. As we reached mid-afternoon, the DXY was only slightly higher, at 92.8, while gold, which had opened at $1,288, closed the festive week at that very same level.
So, where does all this leave gold as we head into this year's home stretch?
Let's first look at the dollar.
What's Next for the Price of Gold as We Head Toward 2018
Join the conversation. Click here to jump to comments…
About the Author
Peter Krauth is the Resource Specialist for Money Map Press and has contributed some of the most popular and highly regarded investing articles on Money Morning. Peter is headquartered in resource-rich Canada, but he travels around the world to dig up the very best profit opportunity, whether it's in gold, silver, oil, coal, or even potash.