Bitcoin prices are closing in on $10,000, but owning Bitcoin comes with more risk than you might be willing to tolerate. Fortunately, there's a way to invest in Bitcoin without buying Bitcoin...
We are revealing a crypto investment opportunity that could net retail investors double-digit gains and limit exposure to volatile price swings.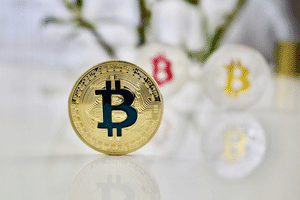 So far in 2017, this strategy for investing in Bitcoin without buying Bitcoin brought a 259% return for shareholders. In comparison, the Dow Jones Industrial Average is up just 19.26% during that same time.
But if you missed out on those gains, that's okay.
We still see a profit opportunity developing that could net double-digit returns in the next 12 months, as Bitcoin prices are expected to reach $14,000 in 2018...
How Risk Investors Can Still Profit from Bitcoin
Thanks to one forward-thinking CEO, this Bitcoin investing strategy could net shareholders gains of nearly 32%.
We know what you're thinking: 31.14% gains may not sound exciting compared to the 907.91% climb in Bitcoin prices this year.
Investing in Drones Will Be Like Investing in Smartphones in 2009: If you've thought of drones in military terms or just as toys, this is a wake-up call. Find out more.
However, this Bitcoin investing strategy benefits risk-averse investors in three ways:
You won't have to use Bitcoin exchanges or set up wallets to secure your cryptocurrency purchase.
Your investment offers more protection from volatile crypto price swings than through just owning Bitcoin directly.
The 31.14% projected gains over the next 12 months are just the beginning of how much money can be made from this profit opportunity.
Instead of sitting on the sidelines, you can start making money from the booming cryptocurrency market today without taking unnecessary risks.
Video
Top 5 Cryptocurrencies to Invest in Today
Here's exactly how to get started...
The Easiest Way to Invest in Bitcoin Without Buying Bitcoin