Bitcoin prices are closing in on $10,000, but owning Bitcoin comes with more risk than you might be willing to tolerate. Fortunately, there's a way to invest in Bitcoin without buying Bitcoin...
We are revealing a crypto investment opportunity that could net retail investors double-digit gains and limit exposure to volatile price swings.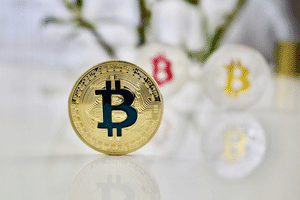 So far in 2017, this strategy for investing in Bitcoin without buying Bitcoin brought a 259% return for shareholders. In comparison, the Dow Jones Industrial Average is up just 19.26% during that same time.
But if you missed out on those gains, that's okay.
We still see a profit opportunity developing that could net double-digit returns in the next 12 months, as Bitcoin prices are expected to reach $14,000 in 2018...
How Risk Investors Can Still Profit from Bitcoin
Thanks to one forward-thinking CEO, this Bitcoin investing strategy could net shareholders gains of nearly 32%.
We know what you're thinking: 31.14% gains may not sound exciting compared to the 907.91% climb in Bitcoin prices this year.
Investing in Drones Will Be Like Investing in Smartphones in 2009: If you've thought of drones in military terms or just as toys, this is a wake-up call. Find out more.
However, this Bitcoin investing strategy benefits risk-averse investors in three ways:
You won't have to use Bitcoin exchanges or set up wallets to secure your cryptocurrency purchase.
Your investment offers more protection from volatile crypto price swings than through just owning Bitcoin directly.
The 31.14% projected gains over the next 12 months are just the beginning of how much money can be made from this profit opportunity.
Instead of sitting on the sidelines, you can start making money from the booming cryptocurrency market today without taking unnecessary risks.
Video
Top 5 Cryptocurrencies to Invest in Today
Here's exactly how to get started...
The Easiest Way to Invest in Bitcoin Without Buying Bitcoin
[mmpazkzone name="in-story" network="9794" site="307044" id="137008" type="4"]
Overstock.com Inc. (Nasdaq: OSTK) is our backdoor Bitcoin investing strategy.
Yes, it may seem odd that Overstock.com is a way to invest in Bitcoin, but CEO Patrick Byrne was one of the first to accept Bitcoin payments...
While Overstock sells surplus and returned merchandise from other retailers, as well as new merchandise, Overstock started accepting Bitcoin as payment when it was just $754.97 per coin in January 2014.
The online retailer has kept 10% of its Bitcoin earnings in Bitcoin and converted the rest into U.S. dollars, according to CoinDesk.com.
However, on an Aug. 3 earnings call, Bryne said the board of directors approved a plan to keep 50% of Bitcoin payments as Bitcoin.
That means Overstock is actually stashing away the bitcoins it collects as payment, so shareholders are getting a slice of Bitcoin's price growth.
Now, we don't know exactly how many Bitcoins Overstock.com is holding right now.
But we do know roughly how much in Bitcoin people are spending...
Byrne didn't give a time frame, but he said in the conference call that Overstock was receiving $50,000 per week in Bitcoin payments.
At the time of the earnings call, Bitcoin prices opened at $2,709.56 on Aug. 3. Since Bitcoin prices are now trading at $9,712.85, Overstock has booked a 258.46% gain since Byrne announced Overstock will hold 50% of its Bitcoin payments as Bitcoin.
And that's not the only way Overstock is giving you exposure to Bitcoin. Overstock also operates a blockchain-investment division, Medici Ventures.
Medici researches how to incorporate blockchain technology into banking, identification services, land ownership and sales, and voting. For example, its PeerNova holding is building blockchain-inspired technology that enables financial institutions to securely and verifiably manage their data.
As blockchain technology is used more and Bitcoin payments become more common, one analyst has a bullish price prediction for the Overstock.com stock price.
Investment firm DA Davidson predicted on Nov. 9 that the OSTK stock price will climb to $85 per share. From today's opening price of $64.65, that's a potential profit of 31.47%.
Of course, that doesn't come close to the 907.91% gains Bitcoin investors have made since the coin opened for $963.66 on Jan. 1.
However, buying OSTK stock removes two of the biggest issues in owning Bitcoin directly...
The first issue is you have to store cryptocurrencies in a wallet to keep it safe, which can be a complicated process for new investors. Because keeping track of the private keys (the way to identify a coin) can be difficult, over 30% of all Bitcoins in existence are projected to be lost forever, according to a June 22, 2014, report from LetsTalkBitcoin.com.
The second issue is that you have to be comfortable with volatile price swings.
For example, Bitcoin prices opened at $7,404.52 on Nov. 5, but they fell to an intraday low of $5,519.01 on Nov. 12.
That's a 25% drop in a week.
But Overstock lets you profit from Bitcoin while also limiting your risk.
By holding up to 50% of Bitcoin payments, any Bitcoin price jump makes Overstock more valuable. On the flip side, Overstock's business won't collapse if Bitcoin prices take a dive.
The company sells goods and accepts Bitcoin payments, rather than just mining Bitcoin as its core operation. On top of that, the company also accepts 40 different cryptocurrencies, like Ethereum.
If the price of Bitcoin goes down and another digital currency becomes more popular, like Litecoin or Ethereum, Overstock can hold those coins instead as a long-term investment.
The Bottom Line: Bitcoin prices have surged nearly 1,000% in 2017, but owning the digital currency directly is not for everybody. Not only do investors have to keep cryptocurrencies safe with a "wallet," but they have to be comfortable with prices plummeting 25% in a week. The easier way to invest in Bitcoin without buying Bitcoin is through owning shares of Overstock.com. The company is bringing in $50,000 a week in Bitcoin payments, and thanks to its holdings, the OSTK stock price is expected to climb 31.47% over the next 12 months.
Up Next
Drones Are Going to Be Big - "$127-Billion-In-New-Wealth-For-Early-Investors Big." See The Seven Reasons This Drone Company's Stock Is Set to Explode.