The mainstream media is paying more attention to Bitcoin as prices climb above $11,000, but Litecoin prices are rocketing higher much faster than Bitcoin...
Since Jan. 1, 2017, Bitcoin prices have climbed 1,074%. But the price of Litecoin has climbed from $4.33 on Jan. 1 to $104.25 today (Nov. 29, 2017) - a 2,307.62% gain.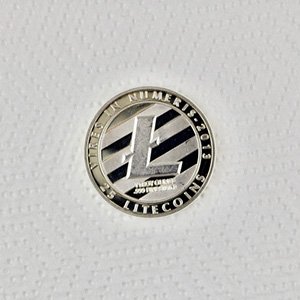 Litecoin was created in 2011 by former Alphabet Inc. (Nasdaq: GOOGL) engineer Charlie Lee.
He wanted the crypto coin to be "silver" to Bitcoin's "gold," because he sees Bitcoin as storage of value.
Silver was easier to spend than gold, as U.S. quarters were made with 90% silver before 1965, according to Wired.com.
"So you keep gold in the bank safe, but you would use silver daily. So a similar idea, where you would keep Bitcoin for its store value, but you may use Litecoin for daily purchases," Lee said in an Oct. 4 interview with Mixergy.com.
But there are even more differences between the two cryptocurrencies. These differences give Litecoin unique potential, even though Litecoin receives less attention from the mainstream media.
In fact, being under the radar right now could lead to the most gains, as earlier adopters will always make the most money.
Here are three of the biggest differences between Bitcoin and Litecoin right now...
What's the Difference Between Litecoin and Bitcoin?
The first difference between Bitcoin and Litecoin is supply, which is a similar issue when comparing gold to silver.
There is only a finite amount of gold in the world, and VisualCapitalist.com forecasts we will run out of mineable gold as early as 2030. For silver, the world may run out by 2035.
Bitcoin has a limit of 21 million coins, while Litecoin has a limit of 81 million. The limited supply of Bitcoin is one of the reasons it's more appealing to some crypto investors.
With fewer in circulation, it's harder to own Bitcoin. With high demand and low supply, investors are willing to pay more.
But Litecoin is still an attractive investment because it can be used, like silver was, for everyday use...
Drones Are Going to Be Big - "$127-Billion-In-New-Wealth-For-Early-Investors Big." See The Seven Reasons This Drone Company's Stock Is Set to Explode.
The second difference between the two is transaction speed and fees.
It takes an average of eight minutes and 17 seconds to confirm a Bitcoin transaction.
But it only takes an average of two minutes and seven seconds to confirm a Litecoin transaction, according to BitInfoCharts.com.
Plus, Litecoin transactions are cheaper to process. The average Litecoin transaction fee is just $0.14, while the average Bitcoin fee is $6.61 per transaction.
Finally, the third biggest difference between Bitcoin and Litecoin right now is consensus on how to scale the platforms.
In 2017, there were three "hard forks" scheduled for Bitcoin, which included:
The Bitcoin Cash hard fork (Aug. 1)
The Bitcoin Gold hark fork (Nov. 12)
The Bitcoin SegWit2x hard fork (canceled)
The forks were designed to address flaws that miners, developers, and investors saw with Bitcoin's current transaction speed and capacity.
As time progresses, there's always the chance the crypto community values Bitcoin Cash or a coin created from another fork more than the original Bitcoin. That would send the price of Bitcoin plummeting.
With Litecoin, there's a clearer picture on how it will be scaled...
Litecoin activated SegWit at the end of April, a scaling solution that frees up space, or capacity to add more transactions. Litecoin Foundation Director Franklyn Richards said that Litecoin users "unanimously" supported the change, according to CoinDesk.com.
Editor's Note: For more details on SegWit, click here.
Lee said on Jan. 6 in a Medium post that Litecoin doesn't have a block size problem, but he said SegWit would allow Lightning Networks to be built on top of Litecoin. Lightning Network (LN) has "exceptionally low fees" and would allow for "billions of transactions per second across the network," according to Lightning Network's website.
Instead of waiting for a problem, Lee is being proactive and preparing to increase Litecoin's transaction capacity and keep fees low through the Lightning Network.
"Think of it being two highways: Today, Bitcoin is packed full of cars and Litecoin is empty. Even with Bitcoin packed, the cars are not coming to use the Litecoin highway today, because it's not connected, and it's inconvenient (centralized exchanges and slow on-chain transfers) to go across. LN will build bridges over the highways. But a side benefit is that these bridges will connect both highways together. Maybe the bridges on Bitcoin are enough such that cars will still stay on the Bitcoin highway. My bet is that the convenience and the cheaper tolls on Litecoin highway will convince cars to cross over and use Litecoin. But we won't know until both are built." - Charlie Lee, Medium, Jan. 6.
Now, we want our readers to know that Litecoin should still be viewed as a speculative investment. You should never invest what you can't afford to lose.
But the 2,000% gains this year are just the start of the profit opportunity ahead...
That's why we're going to show you how to buy your first Litecoin and stake your claim in its $5 billion market...
How to Buy Your First Litecoin