Right now, there's a major shift underway in the biotech field that's creating a brand-new $59.2 billion industry. And investors who get in now could be positioning themselves for triple- or even quadruple-digit gains...
That's why we're bringing readers one of the best biotech stocks to buy in December 2017, according to Money Morning Director of Technology & Venture Capital Research Michael A. Robinson.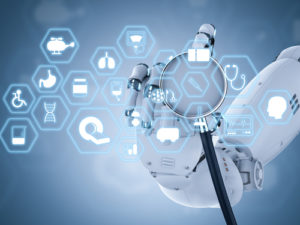 You see, there has long been a "one-size-fits-all" approach when it comes to treating illness.
Sure, we can put every individual's condition into a spreadsheet and crank out a mathematically "average human," but very few people actually have that average set of health characteristics.
Robinson says this has created an emerging field known as precision medicine.
The goal is to determine and target each person's unique set of genes, environment, and lifestyle. The result would be higher efficiency treatment.
Cash Windfall: Marijuana stocks are seeing triple-digit gains of 224%... 378%... even an exceptional 751%. Learn how to start investing in marijuana with this "pot investment" plan. Read more...
Similar to the way the iPhone brought together communications, entertainment, research, and even flashlights, precision medicine will unite traditional medicine, molecular biology, data analysis, and cloud computing.
In fact, global market research and consulting firm Mordor Intelligence says the precision medicine market alone will be worth $59.2 billion by 2021.
But it goes beyond the noble pursuit of making people healthier - it's also part of a drive to lower the nation's $1.7 trillion healthcare tab. And it has the full backing of the U.S. government.
Last year, Congress approved spending roughly $215 million on a National Institutes of Health Precision Medicine Initiative in order to "pioneer a new model of patient-powered research."
Robinson has been researching this trend intently, looking for the best biotech stocks poised to profit immediately. And he's found a biotech stock at the heart of this biotech revolution.
Here's the pick...
This Is One of the Best Biotech Stocks to Buy in December 2017