Be they medical or recreational, big-name cultivators or small tech startups, cannabis companies of all stripes are very good at one thing.
Growth.
According to a survey conducted by Marijuana Business Daily, 42% of marijuana businesses are looking to expand into new markets in the next year. That means that, for two out of five marijuana businesses, buying shares now could be like owning Amazon.com Inc. (NYSE: AMZN) when it was still just selling books.
The percentage is even higher for specific sectors. For example, 61.7% of ancillary marijuana technology companies are looking to reach new markets in the next 12 months. These companies are producing the software, cultivation products, and extraction equipment vital to the growth of the industry.
Look to this chart to see how other sectors stack up: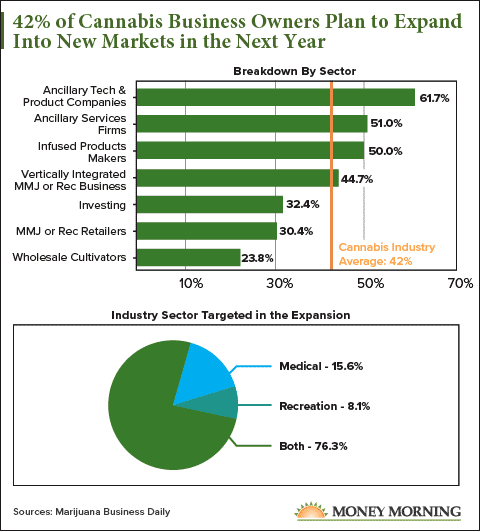 As you can see, growth isn't limited to one sector or another. The vast majority of companies have their sights set on both recreational and medical marijuana products.
But of course, this boom doesn't mean you should throw a dart at a bunch of penny pot stocks and invest in whatever it lands on. Not all of these companies will meet their expectations; there will be a lot more losers than winners.
Here's what you need to make informed decisions on your way to marijuana millions...
What the Chart Doesn't Tell You
Marijuana Business Daily also asked cannabis business owners where they'd like to expand, and one state kept coming up.
California.
For both ancillary businesses and more hands-on, "plant-touching" ones, California was consistently at the top of the list for business owners looking to expand their operations.
In fact, 35% of plant-touching businesses looking to expand in the recreational markets are eyeing California - far more than any other state, according to Marijuana Business Daily.
It makes sense: The largest state in the Union has been weed-friendly for decades, and it fully legalizes cannabis on Jan. 1.
Special Report: Cannabis Is the Gold Rush of the 21st Century - 30 Stocks to Invest in Now. Details Here...
The influx of cannabis companies clamoring to open shop in California will create a compounding effect, as more growers means more ancillary businesses, and more ancillary business attracts more growers.
We are witnessing a "green rush" like America hasn't seen since the actual "gold rush" started in 1848. And for a handful of tiny penny stocks, this could mean massive windfalls coming in faster than you can believe.
That's why Money Morning Director of Technology & Venture Capital Research Michael A. Robinson and his team have spent most of last year hunkered down, researching the best ways to make money off the legalization craze sweeping the United States and Canada.
He's already come up with winner after triple-digit winner for his paid-up Nova-X Report subscribers.
But California's new laws mean the biggest gains for pot stocks could lie just ahead.
That's why he's hosting a special California Pot Stock Explosion Summit today, Nov. 30, at 8 p.m. ET.
He believes that if you get ahead of this moment, you could see gains as high as 15,251%.
During the California Pot Stock Explosion Summit, Michael will talk all about how you can get in on these historic windfalls - on the ground floor.
Click here to reserve your spot for today at 8 p.m. ET. Michael's team will send you your special California Pot Stock Explosion Summit e-mail reservation and instructions on how to attend right away.
Don't miss your shot at being a marijuana millionaire.
Follow Money Morning on Twitter @moneymorning, Facebook, and LinkedIn.