Some investors think they missed out on Bitcoin because it's too expensive to buy at $11,418.70 a coin. But you don't have to buy one whole bitcoin at a time.
You can buy fractional shares of Bitcoin, and those fractional shares will increase in value each time the price of Bitcoin climbs. The best part is, you can buy as much or as little as you want and still profit from Bitcoin's rising price.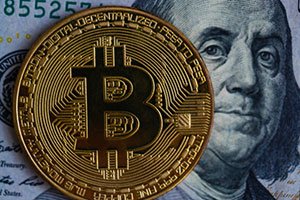 For example, if you purchase $1,000 of Bitcoin when it trades at $11,000 per coin and the price climbs to $12,000, your original investment would be now be worth $1,090.
Whether you just want to invest a few hundred dollars in Bitcoin or eventually want to own a whole coin, buying fractional shares is the best way to do it.
And now may be the perfect moment to buy the cryptocurrency, because its price is poised to soar even higher...
You Can Own One Whole Bitcoin Through an Accumulation Strategy
Even though Bitcoin may seem expensive now, you won't believe the projections over the next few years...
Standpoint Research founder Ronnie Moas hiked his Bitcoin price forecast from $14,000 to $20,000, according to a Nov. 29 Bezinga.com report.
That's a 75% increase from today's prices, and that estimate may even be too conservative...
John McAfee predicts Bitcoin will trade for $1 million by 2020, a 8,657% gain from the price of Bitcoin today.
If Moas' and McAfee's predictions come true, then today's Bitcoin price will look cheap in comparison.
Free Book: The secrets in this book helped one Money Morning reader make a $185,253 profit in just eight days. Learn how to claim your copy here…
That's why any Bitcoin price dips that happen in 2017 and 2018 will allow savvy investors to own a piece of the cryptocurrency at a potentially huge discount.
For example, Bitcoin opened at $10,077.40 on Nov. 29 but dropped to an intraday low of $9,202.05 on Nov. 30. Investors could have used that intraday low as an entry point to work their way toward owning a full coin.
Investors who bought in at that price have already made a 24.08% profit.
But timing the market is impossible, which is why investors can use dollar-cost averaging to get closer to owning one full bitcoin.
Through dollar-cost averaging, investors would buy the same dollar amount of a crypto each month, no matter the current cost. For example, you would buy $1,500 of Bitcoin each month. If the price falls, you would be able to buy more Bitcoin, and if the price goes up, you would buy a smaller fraction of the coin.
By using dollar-cost averaging, you would accumulate Bitcoin without the risk of buying in during a particularly expensive month, while averaging it out by buying in during times when Bitcoin's price falls.
Let's say Bitcoin trades between $11,000 and $12,000 for the next four months.
You invest $1,500 each month, and the average cost of all your purchases turns out to be $11,500. If prices jump $1,000 or more in one day, to $13,000, you would make a 13% profit.
Sticking to this strategy helps investors avoid the pitfall of buying at a high and selling at a low. And it will allow you to accumulate the crypto until you own a whole bitcoin.
Again, we want to make sure Money Morning readers know Bitcoin should still be viewed as a speculative investment.
You should never invest what you can't afford to lose.
But the 1,084.93% gain of Bitcoin prices this year alone is just the start of the profit opportunity ahead...
That's why we're going to show you how to buy your first bitcoin and stake your claim in the $190 billion market...
How to Buy Your First Bitcoin