Gold prices haven't been making headlines to compete with record-high stocks or Bitcoin reaching $10,000. But that's all about to change...
The price of gold has appeared stagnant since October.
Normally, traders flock to the precious metal during times of uncertainty and instability. That's why it was surprising that not even another ballistic missile fired by North Korea was enough to rally gold prices.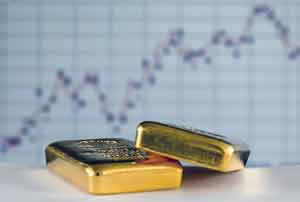 The precious metal continues to trade in a narrow trading range about $25 wide.
Over the entire month of November, gold barely moved below $1,270 or above $1,295.
But the gold price has been stealthily making a distinct series of higher lows ever since its most recent bottom in late October.
And the upcoming December FOMC meeting could be the catalyst gold needs to boost it even higher by the end of the year...
Sign up for SMS so you never miss special events, exclusive offers, and weekly bonus trades.
How Gold Prices Have Been Sneakily Rising
Before we get into gold's next major catalyst and our gold price forecast, here's how gold has performed over the last week...
Gold looked strong enough to start out the week, as the U.S. Dollar Index (DXY) - a measure of the dollar's value against other currencies - continued to weaken.
Urgent: Executive Editor Bill Patalon just saw something on his precious metals charts he's only seen twice in 20 years. He calls it the "Halley's Comet of investing" - and it could lead to windfall profits. Read more...
The precious metal started climbing overnight, from Sunday into Monday (Nov. 27) morning, as traders returned from the extended Thanksgiving holiday. The DXY backed off from about 92.80 to flirt with 92.50 just after 9:00 a.m. That helped power gold to open at $1,295, then peak at $1,298 by 9:00 a.m. But the dollar rallied, bringing the DXY back to 92.9 by mid-afternoon, and gold retreated to close at $1,294.
On Tuesday, gold held its own despite a continued dollar rally. The DXY rallied through most of the day, from 92.85 to 93.25. Still, gold managed to hold its own. It opened for trading at $1,295 and gave up just $2, to close at $1,293.
Wednesday would be less kind to gold. It opened at $1,294 but immediately sold off as the DXY managed to rally even higher. That took the DXY to a morning peak at 93.4, and gold dropped to $1,283 by 10:00 a.m. and remained there for the rest of the day.
Here's a glance at the DXY this past week.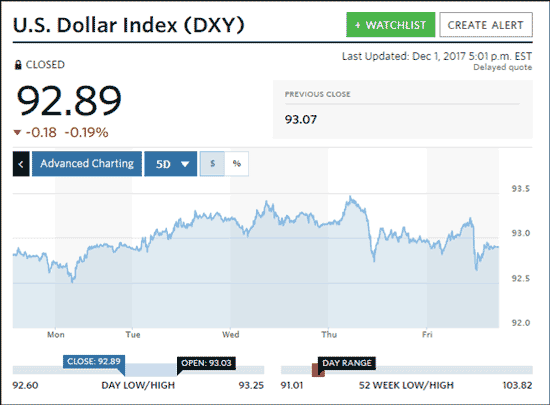 On Thursday, the last trading day in November, the precious metal opened at $1,280 but dropped to $1,276 within the hour, even as the DXY was heading south. Interestingly, the DXY's sell-off to 92.75 ended at 11:00 a.m., and then reversed. By the afternoon, the DXY was back above 93. Gold bottomed at $1,270 around 1:00 p.m. as more buyers stepped in, pulling it back to $1,275 by the close.
Then on Friday, the DXY managed to climb a little higher still. Gold initially held its own before breaking out after breaking news in Washington, D.C. That was a report that former Trump national security advisor Michael Flynn would plead guilty about lying to the FBI and cooperate with special counsel Robert Mueller's investigation into Russian interference in the 2016 U.S. election. Gold immediately tacked on a $19 premium, from $1,271 around 10:30 a.m. to peak at $1,290 by 11:30 a.m. The DXY retreated to 92.9, helping gold to hold the $1,280 level through to 5 p.m.
Even though gold prices have been trading within a narrow range, they've slowly been rising. That's why my gold price prediction is especially bullish on the metal after the next Federal Reserve meeting...
Where Gold Prices Will Go After the December Fed Meeting