Beijing just revealed its latest superweapon.
In doing so, the world's largest nation also divulged the reason it's been building such massive airstrips on islands throughout the South China Sea.
These latest developments prove China is as determined as ever to maintain its long-held claim that the disputed waterway is its sovereign property - through which a full third of all global trade routes pass, accounting for some $3 trillion of goods each year.
Here's an in-depth look at what the Red Dragon's new weapon can do, plus a profit play for investors looking to hedge their portfolios against a U.S.-China clash...
What We Know About Beijing's New South China Sea Superweapon
This past Sunday, China's state-run newspaper The Global Times announced the completion and imminent deployment of Beijing's new Shaanxi Yun-9 "quadruple turbo prop" military aircraft.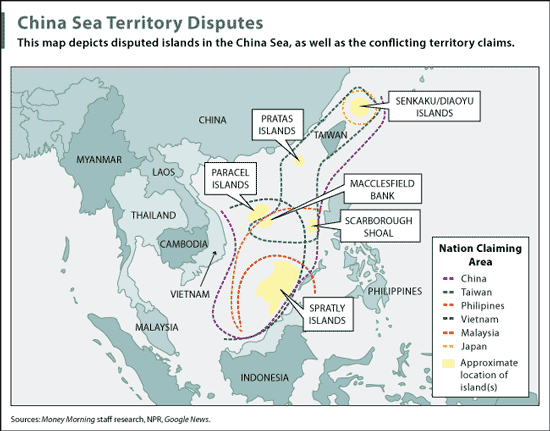 Don't be fooled by that tech-heavy mouthful of a moniker.
The Yun-9 is a straight-up warplane - and a powerful one at that.
In fact, it's capable of transporting up to 20 tons of cargo or vehicles and about 100 troops at once. Plus, it can "serve in a medivac function with a maximum range of 4,200 kilometers (2,610 miles)," The Associated Press reported today (Dec. 6).
"As the backbone transport aircraft of the PLA [People's Liberation Army], the Yun-9's combat readiness means China has the ability to ensure military supplies reach offshore and even open seas," Wang Ya'nan, chief editor of Aerospace Knowledge Magazine, told The Global Times.
Defense Stocks Are Skyrocketing - See How You Could Profit from This Incredible Company Before It's Too Late
There's much to be extrapolated from Wang's "backbone" reference. It denotes a finality with the Y-9's emergence - that the war craft was the last missing puzzle piece China needed before stepping up its aggressive control campaign.
What's more, The Diplomat noted today that Beijing has at least four of these warplanes ready for battle.
Indeed, these aircraft are primed for deployment now, which means test runs had been carried out under the unwitting nose of the U.S. Navy, despite its routine Freedom of Navigation Operations (FONOPs) in the South China Sea.
The Global Times confirmed that the Yun-9 has indeed flown over the hotly contested waters. The outlet stated the warplane's surreptitious training sessions consisted of "flying from a military airport in the southwestern province of Sichuan, landing on an island in the South China Sea, and returning to base the same day."
This statement confirms yet another disturbing detail.
The islands to which the Yun-9 flew in the South China Sea are prepped for military action.
Those "islands" are, in fact, artificial ones built on disputed features in the Spratly island group. Money Morning first reported on the archipelago's construction and the aircraft hangars it appeared to house in August 2016...
"While no actual fighter jets have been seen at the hangars yet, their rapid construction and reinforced building material suggest that's likely to change soon," we said on Aug. 9, 2016.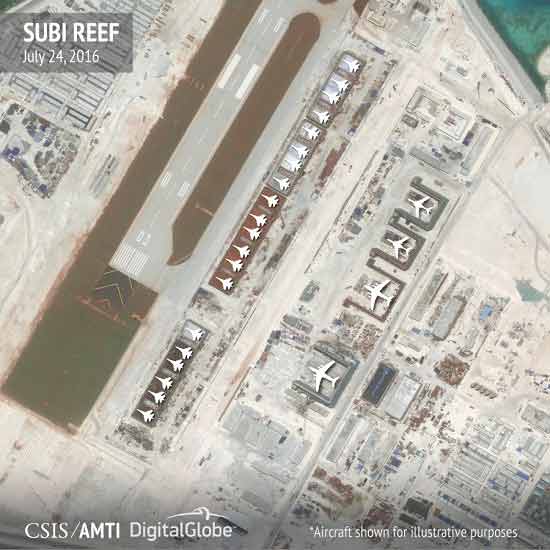 Now we know exactly what kind of aircraft those hangars were built to protect...
Chinese superweapons - like the Shaanxi Yun-9.
Fortunately, the U.S. military has a few innovations of its own to counter China's. And the contractor responsible is poised to offer investors market-crushing returns.
Here's a look...
How the United States Will Counter China in the South China Sea