Marijuana is well on its way to becoming the "norm" in modern America.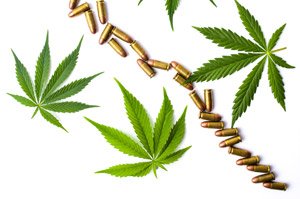 Eight states – Alaska, California, Colorado, Maine, Maryland, Massachusetts, Oregon, and Washington – and the District of Columbia have fully legalized possession of small amounts of marijuana for adults' recreational use. An additional 13 states have decriminalized it. And 29 states, along with Puerto Rico and Guam, now allow the use of medical marijuana.
However, the drug is still classified as an illegal Schedule I substance in the eyes of the federal government.
Make no mistake: State legalization can (and will) change that.
We're already starting to see the power of state legalization in the U.S. military…
To keep up with recruitment demands, the Army is now granting hundreds of waivers to enlist applicants who smoked pot in the past – as long as it is made clear they can no longer do so once in the military.
"Provided they understand that they cannot do that when they serve in the military, I will waive that all day long," said U.S. Major Gen. Jeff Snow, head of the Army's recruiting command, to PBS.
The Army awarded over 500 waivers for cannabis use in 2017, up from 191 in 2016, and zero in 2014. And Major Gen. Snow is confident that the trend will continue as more states legalize or decriminalize marijuana.
The Army's decision to enlist more past marijuana users reflects society's shift in the way it views cannabis use. And it isn't the only one changing its tone…
The Federal Government Isn't United in Its Anti-Weed Stance
No matter how hard the federal government may try to keep legal marijuana at bay, the ship has already sailed.
U.S. Attorney General Jeff Sessions – a staunch opponent of marijuana legalization in any form – has long warned about the "dangerous and not funny" effects of marijuana use.
"It's not funny, it's not something to be laughed at," he exclaimed at an April 15 Senate hearing on the impact of state and recreational marijuana legalization. "Good people don't smoke marijuana," he said.
But his warnings are falling upon deaf ears.
Top Three California Pot Stocks to Watch for the Biggest Gains – Learn How to Cash In Here
 Last spring, the 2-million-member American Legion launched a campaign to reduce marijuana restrictions so that veterans could gain access to the drug for treatment.
"We were hearing these compelling stories from veterans about how cannabis has made their lives better," said Joseph Plenzler, a spokesman for the American Legion, to The LA Times earlier this year. "That they were able to use it to get off a whole cocktail of drugs prescribed by VA doctors, that it is helping with night terrors, or giving them relief from chronic pain."
The legion is calling for marijuana to be reclassified to be included in the same category as legal prescription painkillers.
California lawmakers are also trying to change the way cannabis is perceived by both consumers and the law.
In October, state lawmakers voted on a joint resolution to urge the federal government to reclassify marijuana. The vote was approved 60 to 10.
And now, California is gearing up for its much-anticipated state-wide legalization. On Jan. 1, California will begin issuing recreational licenses to dispensaries. Once a dispensary has a recreational license, it'll be able to sell recreational cannabis to marijuana enthusiasts 21 years and over.
When recreational marijuana sales go live in California, research firm ICF International projects California cannabis sales revenue could total $20 billion per year.
Marijuana legalization will continue to spread across the country – making state governments, businesses, and marijuana investors very happy along the way.
How to Cash In on California's Cannabis Explosion
California's marijuana legalization could be the biggest profit opportunity of our lifetime.
The windfalls to be made here could be unprecedented – but only if you learn how to position yourself to profit.
Money Morning just conducted an interview with one of America's leading pot stock experts, who has already shown his followers massive gains from the previous legalization announcements.
If you're serious about learning how to make millions from the marijuana markets, it's imperative you click here now.
Follow Money Morning on Twitter @moneymorning, Facebook, and LinkedIn.