If you were decorating for the holidays or glued to NFL games last weekend, you might have missed some massive news: CVS Health Corp. (NYSE: CVS) announced it'd buy Aetna Inc. (NYSE: AET) for a cool $70 billion.
Of course, the deal had been discussed as a possibility for weeks, but it's finalized now - it looks for all the world like it's going to happen.
In the press release announcing the deal, CVS Health President and Chief Executive Officer Larry J. Merlo said, "This combination brings together the expertise of two great companies to remake the consumer healthcare experience. With the analytics of Aetna and CVS Health's human touch, we will create a healthcare platform built around individuals."
That's putting it mildly. And, in a turn I find completely unsurprising, Wall Street is downplaying and even dismissing the deal.
I think that's a huge disservice to the public. Because I think this deal is one of 2017's biggest.
It's going to be transformational... and a potential goldmine.
This Is Going to Turn Healthcare on Its Ear - Perfect!
The CVS-Aetna company could provide policyholders and other customers a whole new way of approaching the healthcare system.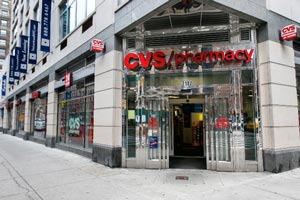 Look, CVS already has 9,700 CVS Pharmacy locations and 1,100 MinuteClinics around the United States.
REVEALED: The most powerful income stream ever imagined - up to $162,000 per year is possible. Click here...
Working with Aetna's formidable "Big Data" capabilities, these are set to become community health centers that deliver faster, better care on a more cost-efficient basis.
Think about this for a minute...
It's 11:30 on a Saturday night, and your two-year-old just woke up screaming, with a painful ear, a runny nose, and 103-degree fever.
Right now, you have a few choices.
Join the conversation. Click here to jump to comments…
About the Author
Tim Melvin is an unlikely investment expert by any measure. Raised in the "projects" of Baltimore by a single mother, he never attended college and started out as a door-to-door vacuum salesman. But he knew the real money was in the stock market, so he set sights on investing - and by sheer force of determination, he eventually became a financial advisor to millionaires. Today, after 30 years of managing money for some of the wealthiest people in the world, he draws on his experience to help investors find "unreasonably good" bargain stocks, multiply profits, and build their nest eggs. Tim tirelessly works to find overlooked "hidden gems" in the stock market, drawing on the research of legendary investors like Benjamin Graham, Walter Schloss, and Marty Whitman. He has written and lectured extensively on the markets, with work appearing on Benzinga, Real Money, Daily Speculations, and more. He has published several books in the "Little Book of" Investment Series and a "Junior Chamber Course" geared towards young adults that teaches Graham's principles and techniques to a new generation of investors. Today, he serves as the Special Situations Strategist at Money Morning and the editor of Peak Yield Investor.