As Bitcoin rockets to new highs almost daily, it begs the question, "Can Ethereum reach $1,000?"
After the No. 2 cryptocurrency hit an all-time high of $522 on Nov. 29, it retreated, and today (Monday) is trading at about $470. Still, that's a gain of more than 5,700% since Jan. 1 – well above Bitcoin's gains of 1,600%.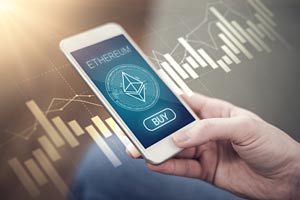 And yet, monster gains like that tend to leave investors wondering if there's any gas left in the tank.
But if 2017 has taught us anything, it's that you can never assume a cryptocurrency has peaked.
Both Bitcoin and Ethereum have far exceeded price predictions made at the start of the year, as have dozens of other cryptocurrencies.
While many analysts have been forced to keep revising their Bitcoin and Ethereum price forecasts this year, one charting tool used by technical analysts has proven extremely useful at estimating cryptocurrency price movements.
And it's telling us that an Ethereum price of $1,000 is definitely on the horizon…
This Chart Says We'll See Ethereum Reach $1,000 in 2018
I'm talking about Fibonacci charts. J.C. Parets, founder and president of All Star Charts, has been making Fibonacci charts for Bitcoin since last year. And what he saw unfold through 2017 amazed him.
"Talk about Fibonacci – I mean, dude, does it get any cleaner than this?" Parets said during an Oct. 13 presentation at Stocktwits' annual Stocktoberfest West conference. "I mean, guys, this is like to the penny."
This Book Could Make You a Millionaire: The secrets in this book have produced 42 chances to double, triple, and even quadruple your money this year alone. Claim your free copy…
Now Parets charts several cryptocurrencies, including Litecoin, Bitcoin Cash, Iota, Dash, Ripple – and, of course, Ethereum.
Here's what his most recent Ethereum Fibonacci chart looks like: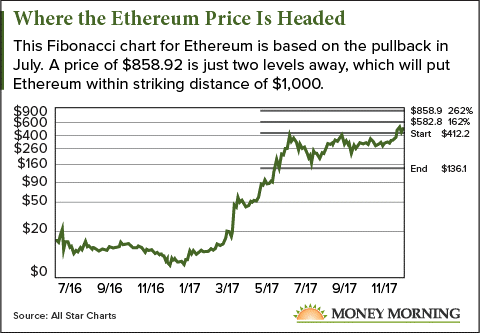 A Fibonocci chart typically starts with a major retracement. For Ethereum, Parets used the 67% drop from mid-June to mid-July. Fibonacci levels start with the price regaining the previous peak – in Ethereum's case, $412.21.
After that, you apply the "Golden Ratio" of 1.618% to get the next level. For the Ethereum price, that's $582.83, well above the all-time high of $521.12.
The next level (calculated by adding the previous two percentages together: 100% plus 161.8%) is $858.92 – a 261.8% extension from the July low of $136.12. The level after that is a 423.6% extension, which will put the price of Ethereum at $1,305.64.
That may seem a stretch from Ethereum's current price. But remember that Ethereum started 2017 at just $8. And Bitcoin – now over $16,000 – started the year under $1,000.
While Fibonacci charts don't predict when an investment will reach the next level, Ethereum's track record suggests we'll see it reach the second extension ($858.92) at minimum and very possibly the third.
After all, Bitcoin blew through five Fibonacci extensions in about seven months.
Editor's Note: Money Morning knows cryptocurrencies. We've been writing about them since 2011, far longer than most other news sites. To get 100% free, real-time alerts sent to your inbox, sign up here.
So the real question isn't can Ethereum reach $1,000, but when Ethereum reaches $1,000.
There are several reasons to believe Ethereum will have a lot of price momentum behind it in 2018.
These catalysts explain why the price of Ethereum will check off one Fibonacci extension after another…
What Will Drive the Ethereum Price Higher in 2018