Since 2014, 49 countries worldwide have broken international sanctions against North Korea. Some of these offenders include France, Germany, and even Japan, according to a Dec. 5 report issued by the Institute for Science and International Security.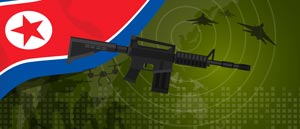 But 13 malefactor nations in particular have provided North Korean dictator Kim Jong Un with military aid over the years. The assistance came in the form of combat training, military equipment, and ammunition - all swapped with Pyongyang to keep Kim Jong Un's nuclear ambitions not just alive, but advancing.
In its latest report, institute researchers honed in on a trade pattern between Pyongyang and the aberrant parties over the past three years: They found that the majority of these arms deals were made at the regime's behest.
That's right, even a country as poor as North Korea knows how to manipulate nations worse off.
Here's a look at why these countries are helping the world's most volatile nation, and what investors can do in the meantime to protect their financial futures as the Hermit Kingdom continues to amass illicit goods ...
Kim Jong Un's Ambitions - Made Possible by the Poorest Countries on Earth
According to the Institute for Science and International Security's report, the following nations have breached military sanctions against North Korea since 2014.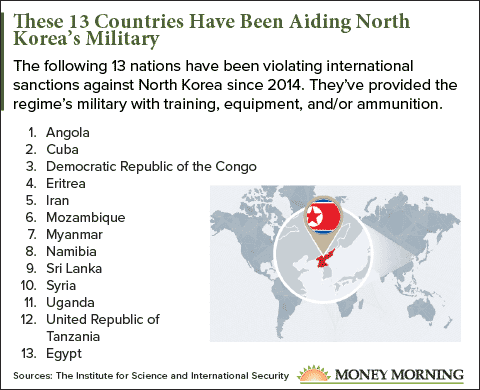 The Hermit Kingdom effectively targeted nations with weak or nonexistent export regulations that were likewise controlled by a corrupt head of state.
Basically, Kim Jong Un is exploiting countries with less stability and far more famine than his own. Indeed, according to the Global Hunger Index, 10 of the 13 countries have "serious" hunger problems or are of "significant concern."
"In some cases, these mostly undemocratic regimes received military training from North Korea," the institute's report claimed, "in others, they received or exported military-related equipment to or from North Korea."
These countries need the money and help Pyongyang has to offer more than they fear the United Nations.
For instance, on Sept. 10, 2017, the UN announced that it had discovered a North Korean company upgrading surface-to-air missile systems in Tanzania, Africa. The fixes were valued at about $12.5 million, reported AllAfrica.com on Sept. 13. There's little doubt those millions went straight into Kim Jong Un's weapons programs.
Tanzania needs those missile systems to secure and protect its recently discovered offshore natural gas deposits, reported Reuters in February 2016. These resources could prove a boon to a country where 67.9% of the population lives below the poverty line.
For Tanzania, that boon is well worth the UN probe that resulted from violating international sanctions.
These transgressions are happening near the United States, as well.
Relations between North Korea and Cuba have been close since the Cold War. And while Cuba has historically relied on Russia for its arms, there is some international speculation that the island is likewise used as a hub to pass those arms off to North Korea.
Such speculation was all but confirmed in 2014, when the UN reported that a North Korea-flagged vessel departing Cuba in 2013 had been carrying missile system components. Cuba immediately claimed the parts were "obsolete" and simply needed repair work, The Diplomat reported on June 7, 2016. Even though the cargo was a clear violation of global sanctions, Cuban entities were never punished.
The UN's unwillingness - or inability - to punish these countries has culminated in a global milieu in which offending nations don't fear flack for their increasingly brazen, illicit arms deals.
Unfortunately, to this point, the Institute for Science and International Security's report's final message falls rather flat...
"Countries that have engaged with North Korea in arms trade and military training should be urged to expel North Korean military personnel and suspend any further cooperation."
That's not much of a threat to these countries, since they've got nothing to lose anyway.
We're not counting on the UN to toughen up on these countries. Instead, we've found a way for you to protect your financial future without waiting on a slow and inefficient governing body.
This play has shown itself to be just as secure as investing in the S&P, with double the returns over the past five years. Check it out...
Where to Put Your Money Ahead of a U.S.-North Korea Showdown
If North Korea keeps getting military assistance, then expect Uncle Sam to go on a spending spree to counter Pyongyang's hostility and protect its lawn.
Already, the 2018 defense budget has been approved by the U.S. Senate and sent to President Donald Trump for approval.
Next year, the U.S. government plans to spend around $700 billion on the sector - $64.6 billion of which Trump slotted for "Overseas Operations."
And that's where your profit play lies - in the iShares U.S. Aerospace & Defense ETF (BATS: ITA), specifically.
This exchange-traded fund (ETF) boasts impressive names in the U.S. defense technology industry, such as Boeing Co. (NYSE: BA), its largest holding. Boeing needs no introduction, but it should be noted that BA is the Dow's top-performing stock of 2017.
And it's not slowing down. In fact, at the recent Dubai Air Show, BA locked in $50 billion in new orders - outperforming all other competitors present.
Mercury Systems Inc. (Nasdaq: MRCY) is another appealing stock in ITA. Many of the nation's top defense contractors are now doling out work to specialized subcontractors like Mercury - which makes precision technology for aircraft and other such defense electronic innovations - that can apply deep domain expertise.
On top of that, Mercury was recognized with a top-level award by the judges of the annual Military & Aerospace Electronics Innovators Awards program this year. The firm was given accolades specifically for its ASURRE-Stor Self-Encrypting Solid-State Drive for Classified Programs.
In short, ITA is packed full of the companies that are keeping the world safe, which makes it a must-have now more than ever.
Up Next: Secret Weapon Set to Foil China's Master Plan
The South China Sea is about to get violent, and the Chinese have an alarming new superweapon they think gives them the upper hand.
Or at least, that's what their war hawks think.
But they couldn't be more wrong.
Thanks to a small $6 U.S. defense contractor with a top-secret technology, the Pentagon has an ingenious new checkmate move designed to stop a Chinese sneak attack dead in its tracks. Click here to learn more...
Follow Money Morning on Twitter @moneymorning, Facebook, and LinkedIn.
[mmpazkzone name="end-story-hostage" network="9794" site="307044" id="138536" type="4"]