Silver prices have continued to struggle, but the end may be nigh.
Am I crazy? Maybe.
After all, the broad markets keep setting new records. Bitcoin and its ilk have done the same, but exponentially.
Why would anyone want silver? After all, anything and everything else will keep rising, forever.  Right?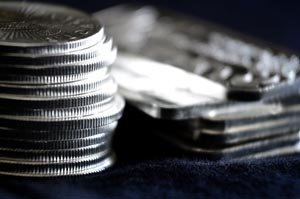 Remember, above all, precious metals are insurance. And right now, that insurance, especially relative to pretty much all other asset classes, is dirt cheap - which is when you should be buying it.
I've been telling you that silver may be bottoming and that silver stocks could be leading them higher. Now we have still more data pointing to exactly that kind of scenario playing out.
Urgent: Executive Editor Bill Patalon just saw something on his precious metals charts he's only seen twice in 20 years. He calls it the "Halley's Comet of investing" - and it could lead to windfall profits. Read more...
In investing, there's never a "sure thing." But based on the historical action in this sector, as well as its more recent performance, this is about as sure as it's likely to get for higher silver prices in 2018.
Before I reveal my newest silver price target, here's a look at how silver is trending right now...
Here's How Silver Prices Are Trending This Week
Silver's past week was a near-perfect continuation of the gradual sell-off of the previous five trading days.
The precious metal opened for NY trading on Tuesday, Dec. 5, at $16.23, then cascaded in the face of renewed dollar strength. The U.S. Dollar Index (DXY) enjoyed a morning rally that took it from 93.10 to 93.45 by early afternoon. That was enough to push silver down to $16.02, from which it recovered to $16.06 by the close.
On Wednesday, silver opened at $16.05, but soon weakened again, this time dropping below the crucial, psychological $16 "line in the sand." The DXY was flying again, with the index running to 93.60 just after noon. Silver hit $15.90 by 1:00 p.m., then recuperated, only barely, to $15.92 by the 5:00 p.m. close.
Thursday was just more of the same. The dollar would keep climbing, with this time the DXY reaching 93.8 by 3:00 p.m. Silver weakened steadily through the day. It opened at $15.80 and sold down to $15.66 by 3:00 p.m., when the DXY peaked. After that, a small dollar retreat helped silver regain $15.69 by the end of New York trading.
Here's the DXY action for these past five trading days.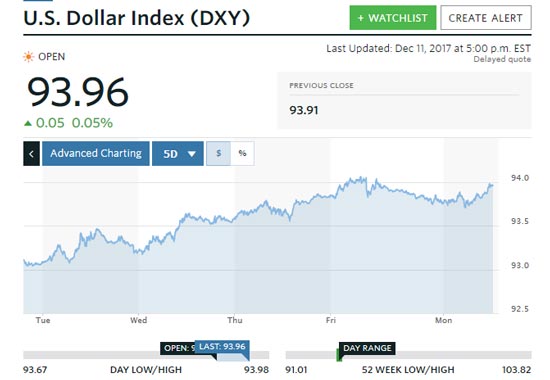 Friday's action would see a small bout of refreshing strength in silver prices, not surprisingly, as the DXY peaked early, then retreated. Silver's opening price was $15.80. The DXY at that point was squarely above 94. But as of 11:00 a.m., traders started selling the dollar, and its index would reach about 93.90 by 5:00 p.m. That helped silver regain a little strength to trade hands at $15.82 to end the day in New York.
But with the approaching FOMC meeting, which is expected to end with a rate hike, the dollar saw buyers come back in. That supported a small rally in the DXY to about 93.95. Naturally, silver didn't like this and opened at $15.76 on Monday, Dec. 11.  From there, it sold down to eventually close at $15.67.
While the pullback in silver prices is worrying to some, this is actually an excellent time to add to your silver positions. Here's how high I see silver prices heading in 2018...
Here's My New Silver Price Target for 2018
Join the conversation. Click here to jump to comments…
About the Author
Peter Krauth is the Resource Specialist for Money Map Press and has contributed some of the most popular and highly regarded investing articles on Money Morning. Peter is headquartered in resource-rich Canada, but he travels around the world to dig up the very best profit opportunity, whether it's in gold, silver, oil, coal, or even potash.