Since Uber's new CEO, Dara Khosrowshahi, accepted cryptocurrency payments at his last company, some wonder if we'll see Uber accept Bitcoin payments in 2018.
While Bitcoin is viewed as a storage of value right now, having a well-known company like Uber accept Bitcoin payments would be a huge win for cryptocurrency investors. It would create more awareness about Bitcoin, which could increase the demand for the coin.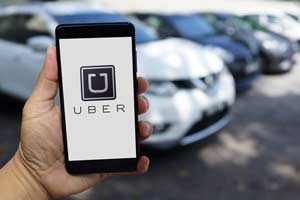 When the demand goes up, prices tend to climb higher.
And there are two serious benefits for businesses accepting Bitcoin, too...
The Benefits of Accepting Bitcoin Payments
Sign up for SMS so you never miss special events, exclusive offers, and weekly bonus trades.
The first benefit of accepting crypto coins like Bitcoin is the processing speed. It can be up to three business days before the funds from credit card payments are available to a business, according to Intuit.
Free Book: The secrets in this book helped one Money Morning reader make a $185,253 profit in just eight days. Learn how to claim your copy here...
Instead of Uber waiting for days for a credit card transaction to clear, it would have Bitcoin deposited to its account almost instantly through virtual currency payments.
The second benefit of Bitcoin payments is security.
Retailer Target Corp. (NYSE: TGT) was attacked by hackers in 2013, and the hackers were able to obtain the names and credit card numbers of tens of millions of TGT customers.
Target was forced to pay $18.5 million in settlements.
But through Bitcoin, a company wouldn't have to store a customer's data. Blockchain technology confirms transactions on a public ledger while also keeping personal information private.
Thanks to his forward-thinking approach, Khosrowshahi knew cryptocurrency payments would be more than a trend when he was the CEO of Expedia Inc. (Nasdaq: EXPE) from 2005 to 2017. Expedia started accepting the digital coin back in 2014.
That could be a signal that Uber may accept Bitcoin in the future...
Dara Khosrowshahi Made a Bold Move Accepting Bitcoin at Expedia