The Dow Jones is nearing its all-time high of 25,000 points, capping a year of 24% growth. But a 2018 market correction might be more likely than you think…
A market correction is defined as a stock market downturn of 10% or more. We've been in the second-longest-running bull market in history for the last eight years and have had four corrections during that time. The last correction was in 2015, when the Dow dipped 11% between July and September.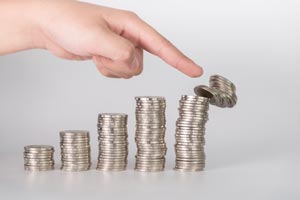 Now, that doesn't mean we will definitely see a stock market correction in 2018.
But investors can't afford to let the stock market's recent performance lull them into a false sense of complacency, especially if they are nearing retirement age.
Don't Miss: The Night Trader makes 226% on one stock in one day…
Market corrections are normal parts of the stock market's cycle and should be expected. But even though they are normal, they can slice off 10% or more of your portfolio.
And there are more market correction warning signs than the simple fact that we haven't seen one in two years.
Here's why investors should be considering a way to protect their money, along with our plan to do just that…
How the Fed Could Trigger a Stock Market Correction in 2018
While we aren't making a market correction prediction, the stock market's recent gains may not last thanks to the Federal Reserve.
You see, the Fed has helped boost stock prices during this bull market run.
During the 2008 financial crisis, the Fed slashed interest rates in an attempt to revive American business. The idea was that cheap borrowing costs would encourage businesses to borrow, expand, and jumpstart the economy.
Retire Rich, No Experience Required: Anyone using this easy strategy could retire with just $12,000 and make up to $162,000 a year… year after year. You need to see this now…
The Fed slashed rates from 5% during 2007 to 0.25% in 2008, the lowest rate ever.
And businesses did take advantage of the cheap borrowing costs…
Public firms utilized low interest rates to buy back their own shares. In the seven years between 2009 and 2016, they borrowed $1.9 trillion, yet repurchased $2.1 trillion.
That's part of what's helped boost stock prices since 2009. The Dow is up over 240% since March 2009, thanks, in part, to trillions in share buybacks.
But that's also sent stock prices to historically high valuations.
The Cyclically Adjusted Price Earnings (CAPE) ratio, one of the best measures of stock market valuation, is currently at 31.42. That's 87% above its historical average. And it's only reached a higher level twice in our history. The first was just before the 1929 stock market crash. The second was just before the dot-com bubble crash in 2000.
Again, we can't predict a market crash, or even a market correction, but the historically high valuations show us that the Dow's record highs shouldn't lead to unvarnished optimism.
That's especially true now that the Fed just hiked rates for the third time this year…
Today (Dec. 13), the Fed just announced another 0.25% increase in the interest rate. That's its third hike this year and fifth since December 2015. Interest rates rose above 1% in 2017 for the first time since 2008. And with three more rate hikes expected in 2018, the interest rate will also rise above 2% for the first time since 2008.
That means the era of cheap borrowing is coming to a quick end, and the share buybacks that helped boost stock valuations won't be so easily financed anymore.
While stocks could certainly continue to grow higher, especially if Congress' tax cut plan is passed, the possibility of a market correction in 2018 is higher than the financial media let on.
Fortunately, there are ways to protect your money without fleeing the stock market…
Our 2018 Market Correction Protection Plan