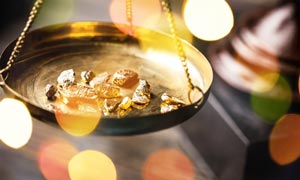 Some pundits will tell you that gold is dead, but the market has a different point of view. Let's cut right to the chase - gold is going higher in 2018, according to Money Morning Resource Specialist Peter Krauth.
And that will be a major catalyst for gold stocks in 2018...
Despite a few headwinds, gold is actually in a bullish trend. Since bottoming in 2015 at $1,045.40, it's now 19.1% higher. And that includes the recent weakness seen over the past few months.
Since its major bottom in 2001, Krauth sees the current path for gold prices as being very similar to that of the late 1970s. It was the dawn of what would become a great secular bull market, taking the metal to a 700% gain by the peak set in 1980.
Of course, every market ebbs and flows, and gold soon entered a bear phase. In 2001, that phase ended with gold trading at $255.00. Another great bull run took it to $1,923.70 in 2008, for a 650% windfall.
Urgent: Executive Editor Bill Patalon just saw something on his precious metals charts he's only seen twice in 20 years. He calls it the "Halley's Comet of investing" - and it could lead to windfall profits. Read more...
As you can see, gold has the ability for huge long-term gains.
Right now, after a major correction and consolidation, gold sits on the cusp of yet another big run higher. And that's a major catalyst for the best gold stocks to buy for 2018...
Here's Why We're So Bullish on Gold Prices in 2018
Gold is a global commodity and is crucial for its ability to store value and its use in manufacturing. Therefore, we have to look at the metal from the view point of investors everywhere. That means looking at its price in terms of other currencies.
For example, gold priced in euros actually bottomed in late 2013 and is up 24% through today.
Gold priced in Australian dollars bottomed in 2014 and is also up 24% through today.
India is one of the largest buyers of gold on the planet for its huge gold jewelry market. Gold priced in Indian rupees bottomed in late 2015 and is up 14%.
Finally, gold priced in Japanese yen had a rather mild correction after peaking in 2013. However, for comparison, it's now up 11% from its 2015 low.
Gold stock price action is another reason to look for a rebound. The ratio of gold stock prices to the metal itself also ebbs and flows and often bottoms just ahead of major lows in the metal.
The stocks to metal ratio is still historically low, and a chart of the NYSE Arca Gold BUGS stock index for gold itself bottomed in late 2000, late 2008, and late 2015. Each time, gold bottomed within two or three months' time, leading to a multi-year advance.
In the first half of 2018, Krauth sees gold reaching $1,400.00, which is just 12% higher from its current level. And by the end of the year, he thinks gold will be closer to $1,475-$1,500. That's about 18% higher from here.
That makes right now a good time for investors to pick up shares in gold stocks. Krauth thinks they are already undervalued.
And this is the pick that Money Morning experts are most bullish about...
Here's the Best Gold Stock to Buy for 2018
[mmpazkzone name="in-story" network="9794" site="307044" id="137008" type="4"]
Money Morning Executive Editor Bill Patalon wrote about Goldcorp Inc. (NYSE: GG) back in March saying it was - and still is - the best gold stock to own.
Patalon believes this Canadian heavyweight is doing all the right things to facilitate strong growth. Over the past 18 months, the company acquired Kaminak Gold Corp. for $373 million, secured a 19.9% stake in Triumph Gold Corp. (CVE: TIG) for $4.75 million, and partnered with
the giant Barrick Gold Corp. (NYSE: ABX) in a gold and copper deposit in Chile.
As you can see, Goldcorp is being aggressive and thinking long term.
But it is not resting on its laurels. The company just announced the details of next year's #DisruptMining innovation expo, a "Shark Tank"-style challenge that brings thousands of entrepreneurs, engineers, scientists, and inventors from all over the world to Canada for a live competition.
The prize is about a $780,000 (or $1 million Canadian) investment to the winner of the challenge for a proof of concept at one of Goldcorp's mines, or direct investment in the winning technologies, according a Nov. 27 press release.
Hosting the competition allows Goldcorp to get a first-hand look (and possibly a leading role, with an investment) at the most cutting-edge technologies designed to "disrupt" the mining sector today.
While it's certainly a smart move on Goldcorp's part, it's not the company's only effort to get ahead.
"The company has pledged over the next five years to increase its output, its production, and its reserves by about 20%," Patalon said. It plans to reach this goal with a three-point plan of boosting earnings, slashing costs, and continuing to line up growth opportunities as it already has.
"Just to be clear, I don't see the stock skyrocketing from here as a result of this challenge," said Patalon. "But that doesn't mean you shouldn't look to invest for the long term."
"This challenge is just another example of how strong and innovative the company is, and I'm expecting even more great things from this company over the next decade."
Up Next: Rare Gold Anomaly
Money Morning Executive Editor Bill Patalon just caught something on his gold charts that he's only seen twice in the past 20 years. A $13 billion gold anomaly he calls the "Halley's Comet of investing."
It's very rare, and fleeting, and Bill sees things lining up perfectly to bring some very sizeable precious metal profits to well-positioned investors.
Click here to check out this research...
Follow Money Morning on Twitter @moneymorning, Facebook, and LinkedIn.