The marijuana revolution is taking over the country.
Eight states - Alaska, California, Colorado, Maine, Maryland, Massachusetts, Oregon, and Washington - and the District of Columbia have fully legalized possession of small amounts of marijuana for adults' recreational use. An additional 13 states have decriminalized it. And 29 states, along with Puerto Rico and Guam, now allow the use of medical marijuana.
The widespread legalization has caused the industry to absolutely explode with newfound wealth.
Last year, legal pot sales rose a stunning 34%, to $6.7 billion across North America, according to Arcview Market Research. What's more, that figure should surpass $8 billion by 2018 and reach $22.6 billion by 2021.
We've seen pot stocks absolutely soar from all of this growth.
Over the past year, Money Morning Director of Technology & Venture Capital Research - and our pot stock expert - Michael A. Robinson's legal marijuana recommendations included 10 double-digit winners and eight triple-digit winners... 291% gains... 193.3%... 185.5%; one recommendation even saw peak gains of 1,588%.
Make no mistake: The gains are far from over.
In fact, more states are set to legalize the drug for either medical or recreational use in 2018.
And that's going to set investors up for another round of explosive profits.
Here's a look at four states likely to legalize in 2018, plus one "bonus" state that's about to spearhead the next round of marijuana millions...
Weed Legalization in 2018, State No. 4: Arizona
Arizona fell shy of legalizing recreational weed last year, putting them in prime position to legalize in 2018.
In 2016, Arizona's Proposition 205 would have made it legal to carry, grow, and use recreational marijuana throughout the state. The Proposition received 48.7% votes in favor, just a hair away from the majority vote needed.
Safer Arizona, a political action committee, has already filed an initiative with the secretary of state's office to get the issue on the November 2018 ballot.
Top 3 California Pot Stocks to Watch for the Biggest Gains - Learn How to Cash In Here
"Prop. 205 was legitimately a very flawed law. There was a large population of cannabis consumers who voted 'no' on it," said Dave Wisniewski, chair of Safer Arizona, to Cronkite News in February. "I don't believe Arizona voted down Prop. 205 because they didn't want marijuana."
Wisniewski said the new Safer Arizona Cannabis Legalization Act differs from Prop. 205 in several ways, including a higher ceiling for home grows, a capped general sales tax, and it would place regulation under the U.S. Department of Agriculture rather than creating a new department.
Wisniewski is optimistic the new proposal will win the majority vote.
Weed Legalization in 2018, State No. 3: Rhode Island
Rhode Island has had legal medical marijuana since 2006. But now the state is organizing efforts to make cannabis legal for recreational use.
In October, a special, 19-member legislative committee was formed to look into the potential effects of legalizing recreational marijuana.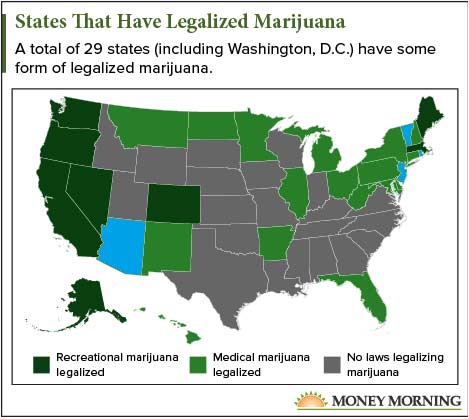 Note: States expected to legalize recreational marijuana in 2018 are highlighted in blue.
As a medical state that shares a border with the recently legalized state of Massachusetts, the potential loss of revenue (between $44 million and $82 million during the next fiscal year) could spur the legislature to make a bold move.
Weed Legalization in 2018, State No. 2: Vermont
Vermont may legalize marijuana as soon as next month, according to legislators.
Earlier this year, the state fell short after the legislature passed a bill to legalize cannabis possession, but Gov. Phil Scott vetoed it. However, Scott presented the legislators with a few small changes that would win his support. The Senate quickly acted to make the changes, but the House was not able to approve it in time.
Now, advocates believe they can move the bill through the House quickly once the legislature reconvenes after the holidays.
"It's not a high priority for me, but I did make a commitment that I was supportive of the bill that was put together," said Gov. Scott of the revised legislation during an appearance on Vermont Public Radio.
If passed, Vermont's approach would be different than the laws that exist in other states. It would enact a noncommercial form of legalization, where only possessing small amounts of cannabis and growing a few plants at home would be legal. However, the Senate-passed legislation would create a commission to study possible future commercialization.
Lawmakers in this next state set to legalize, however, are expected to consider full-scale commercial legalization immediately...