Investors flock to stocks because they potentially offer lucrative growth, like the 55% gains of Amazon.com Inc. (Nasdaq: AMZN) just in 2017 alone. But stocks can also be volatile.  Trivago NV (Nasdaq: TRVG), for instance, is down 44% on the year, and there's a list of plenty of other underperformers in 2017 that have lost investors' hard-earned money.
But Money Morning Resource Specialist Peter Krauth projects a safe investment to make in 2018 will also provide savvy investors long-term gains...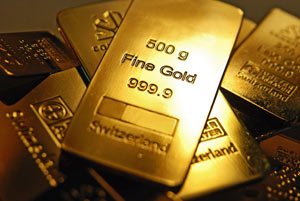 We're talking about gold.
In the short term, he projects gold prices will climb to $1,350 by the end of 2017. From today's prices of $1,252.20, that's a potential profit of 7.8%.
Not bad, but it gets better.
By 2020, Krauth projects gold prices will climb more than 300%. Not only will the precious metal protect your portfolio in the next three years against volatility in the stock market, but it can also net you a triple-digit return.
But don't take my word for it. Here are the three reasons why our Krauth projects gold prices will skyrocket, as well as his exact gold price prediction for 2020....
Gold Prices Will Climb Triple Digits, Reason No. 3: Inflation
Krauth says the first reason gold prices could skyrocket in the next three years is because of inflation.
Inflation is the rate at which the price of services and general goods increase, which means it takes more money to buy the same things.
For example, the average daily rate of U.S. hotels in January 2011 was $96.64. Six years later, in January 2017, the average daily price was $120.72. That same $96.64 from 2011 would not be enough to cover the cost of a hotel room six years later, even though the service is roughly the same.
We have inflation thanks to the U.S. Federal Reserve, which prints more money whenever it needs to give the economy a boost. That eventually makes goods and services cost more, weakening the value of the dollar.
But the Fed can't manipulate gold. There's only a finite amount, and no one institution controls it.
The uncertainty makes assets like gold a safe haven, and as the demand for gold increases, investors are willing to pay more to own the precious metal.
Sensing a spike in gold prices, there are actually fewer investors willing to short the precious metal...
Gold Prices Will Climb Triple Digits, Reason No. 2: Fewer Short Bets
The second reason Krauth sees gold prices climbing is the number of short positions on gold stocks, which has fallen. That means fewer traders are hoping to make money from falling gold prices, a sign that gold prices are about to rise.
For example, the short bets on Canadian gold mining company NovaGold Resources Inc. (NYSE: NG) have declined 79% in the last 12 months.
And a broader indicator that short interest in gold is decreasing is the Gold BUGS Short Index (NYSE: HUISH).
This index tracks short selling on mining firms that specifically refuse to cut gold production based on gold price movements. In the last 12 months, the price of HUISH has dropped 12.43%, indicating short interest in the broad gold sector is falling.
Urgent: Executive Editor Bill Patalon just saw something on his precious metals charts he's only seen twice in 20 years. He calls it the "Halley's Comet of investing" - and it could lead to windfall profits. Read more...
Inflation and short interest are two strong indicators gold prices can climb, but wait until you see the third...
Why Gold Prices Will Climb Triple Digits, Reason No. 1: Interest Rates
Over the last 30 years, Fed interest rate hikes have been followed by strong gains by gold.
Now, it's important to note that gold prices can skid before a rate hike. But after the actual rate increase, they will rally.
You can see in the chart below that this is supported by 30 years of data.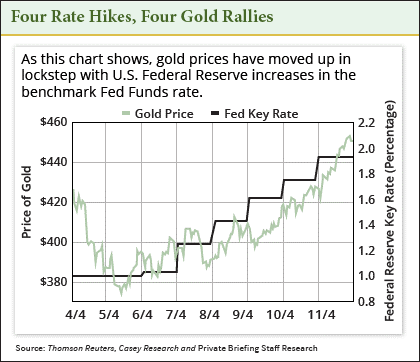 It looks like history will repeat itself, as gold prices peaked after the Fed's Sept. 8 meeting. Gold prices climbed to $1,349.90 on Sept. 8, but prices right now are hovering around $1,250.
If gold prices behave like they have since 1986, then they should rally following the December rate hike.
Now that you know the three reasons why gold prices are set to skyrocket, here's our triple-digit price target for 2020...
Our Bold 2020 Gold Price Target Shows Gains of More Than 300%
[mmpazkzone name="in-story" network="9794" site="307044" id="137008" type="4"]
Krauth's newest gold price forecast has the precious metal soaring to $5,246 an ounce by 2020.
From today's prices of $1,252.20, that's a potential profit of 318.94%.
"The bears have been unable to quash gold," Krauth said. "That's why I'm looking for the next big move to the upside, and it could come right after the Fed hikes rates."
If history is any indication, the markets are set up for a bull run.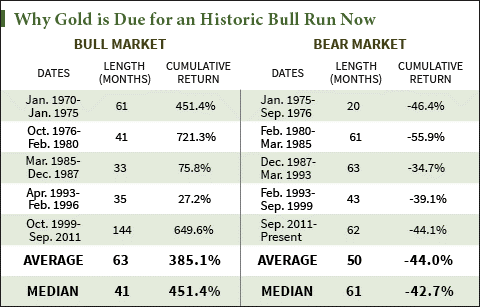 Although currently down 7.14% from this year's high of $1,348 per ounce on Sept. 8, every gold bull market has offered astounding returns. The median return and duration of each bull market over the last 47 years has been 451.4% and 41 months, respectively.
After the Fed raised interest rates in December, the price of gold can really take off.
Up Next: Rare Gold Anomaly
Money Morning Executive Editor Bill Patalon just caught something on his gold charts that he's only seen twice in the past 20 years. A $13 billion gold anomaly he calls the "Halley's Comet of investing."
It's very rare, and fleeting, and Bill sees things lining up perfectly to bring some very sizeable precious metal profits to well-positioned investors.
Click here to check out his research...