This is the best time to invest in marijuana stocks because of one huge event: the legalization of all marijuana use in Canada in July 2018.
Remember, even though Dec. 25 through Jan. 1 should be a joyful and relaxing time, money never takes a day off. That's why we want to make sure you are always kept up to date on profit opportunities, even though it's a holiday week.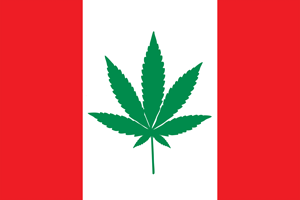 Because recreational sales will soon be legal for our neighbors up north, legal cannabis sales in North America are expected to climb from $6.7 billion in 2016 to over $20 billion by 2018.
That's a 198% increase in just three years.
Now, it's true most marijuana stocks aren't listed on major exchanges. The Nasdaq and New York Stock Exchange don't want to take the risk of listing stocks from quasi-legal industries. Cannabis is still considered illegal under U.S. federal law…
That's what makes cannabis stocks speculative plays.
But full legalization in Canada will make these stocks more legitimate in Wall Street's eyes.
BREAKING: New Legislation Could Turn Tiny Pot Stocks into Millions. Click Here…
With more demand for these stocks coming after Canada legalizes pot, investors who know where to look now can find profitable opportunities.
That's why we had to make sure these two Canadian marijuana stocks are on your radar for 2018…
Marijuana Stocks to Watch, No. 2: Canabo Medical Inc.
Canabo Medical Inc. (CVE: CMM) is Canada's largest physician-led, referral-only clinic for medical marijuana, and it's introducing a unique new way to grow its business.
Now, we aren't recommending Canabo stock right now. But with its 22 clinics across Canada and plans to open an unspecified amount of new locations in 2018, it's a company that could benefit from legalization.
And we're watching Canabo Medical now because of its new VIP program that launched on Dec. 7. Through the VIP service, members can receive a medical consultation in the privacy of their own home or workplace.
If a patient has a debilitating disease, it would be hard to meet with a physician and be prescribed medical cannabis.
This removes a barrier for patients to get the help they need.
Canabo is also expanding its Self-Referral Sleep Aid program into a VIP telemedicine service.
This move will help more potential patients receive access to medical cannabis, and it will also make the company more money. For the annual $300 fee for the VIP telemedicine program, members will have full access to the company's National Call Centre, which offers 24-hour support.
Never Miss a Marijuana Profit Opportunity
The membership fee also includes office and home telemedicine calls, follow-up care programs, and full access to cannabis educational programs.
Over the last 12 months, the CMM stock price has dropped 33%, from $0.89 to $0.59.
However, the combination of legalization and CMM's VIP services could be a catalyst for the stock going forward.
The stock price of the next marijuana stock we're about to mention has already climbed 244% in the last 12 months, but the company isn't finished growing thanks to its latest acquisition…
Marijuana Stocks to Watch, No. 1: Liberty Leaf Holdings Ltd.