Since the first legalization measure in 1996, the marijuana industry has proven to be unstoppable.
Myriad opponents – from grassroots organizations to the White House – have tried to stop marijuana legalization across the United States, but to no avail.
Just look at this marijuana timeline…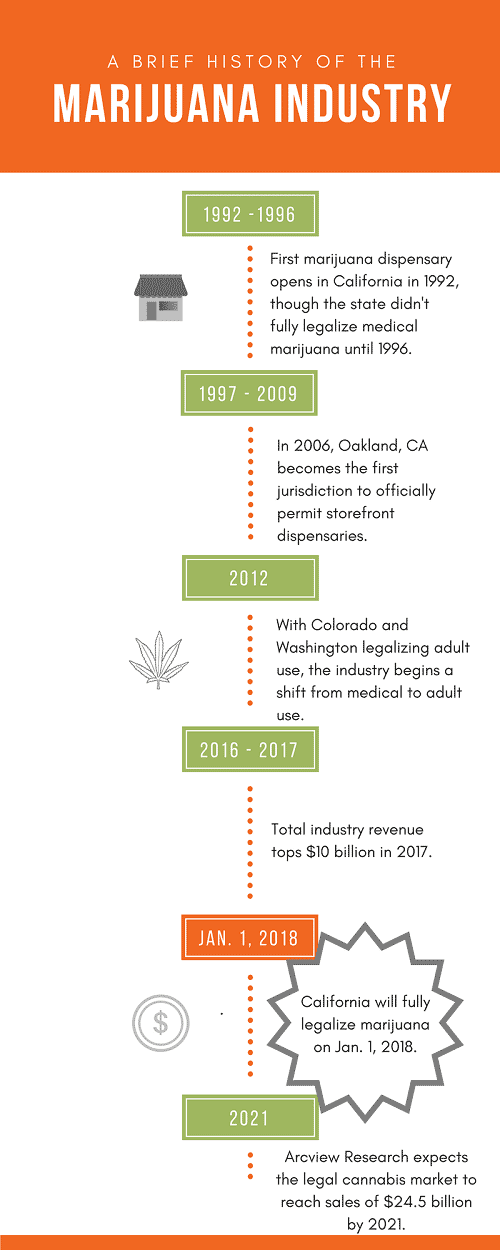 Since medical marijuana's legalization in 1996, the industry has achieved milestone after milestone.
In the 25 years since the very first medical marijuana dispensary was opened in California, over 28,000 cannabis businesses have opened their doors, according to the latest data from Statista.
During that same time period, eight states have fully legalized possession of small amounts of marijuana for adults' recreational use. An additional 13 states have decriminalized it. And 29 states, along with Puerto Rico and Guam, now allow the use of medical marijuana.
The widespread legalization has caused the industry to absolutely explode with newfound wealth.
In 2016, legal pot sales rose a stunning 34%, to $6.7 billion across North America, according to Arcview Market Research. What's more, that figure surpassed expectations and reached $10 billion in 2017. Now the marijuana industry is on pace to reach sales of $24.5 billion by 2021.
This is only just the beginning. The number of states legalizing recreational weed is expected to grow exponentially in the coming years.
Top 3 California Pot Stocks to Watch for the Biggest Gains – Learn How to Cash In Here
And that's going to set investors up for another round of explosive profits.
We're most excited about California, which will fully legalize marijuana in a matter of days…
On Jan. 1, 2018, California's total legalization of marijuana is going to cause a record-breaking amount of wealth to flow into the marijuana industry.
This is going to be a whirlwind event of historic proportions.
Make no mistake: The profit potential here is going to be absolutely unprecedented.
And you could get a piece of the profits.
Here's how…
You Could Make a True Fortune Investing in Marijuana
We've already seen people accumulate massive gains from previous marijuana legalization announcements, but this event is about to blow the lid off of anything we've seen so far.
Are you positioned to profit?
Money Morning Director of Technology & Venture Capital Research – and penny pot stock expert – Michael Robinson recently held a crucial summit to show ordinary people how to make millions from California's impending marijuana legislation.
And he's narrowed his focus to three tiny California pot stocks expected to explode following legalization.
With billions of dollars in revenue projected to flow into this industry, learning how to get in on the ground floor – before these tiny stocks shoot up – is your best shot at life-altering gains. Go here now.
Follow Money Morning on Twitter @moneymorning, Facebook, and LinkedIn.