The price of gold today is rising, extending its gains this week despite near record-high stock prices and soaring cryptocurrencies. That's a good sign this gold bull market is just getting started...
After the recent Fed-induced gold rally began on Dec. 13, the precious metal has continued to rally.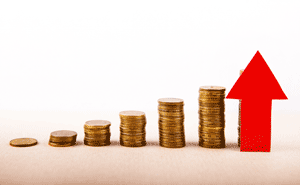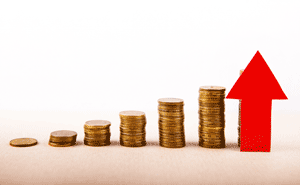 And the rally won't end any time soon.
We're now heading into a seasonally strong period for gold. The yellow metal typically hits an interim low in mid-December, then gold prices run higher almost uninterrupted until late February.
That could mean as much as a 7% gain from today's gold prices, which would take gold all the way to $1,325-$1,350 by the middle of February. That's right at the price I predicted gold would reach.
And now Bitcoin has fallen, dropping from $20,000 to under $12,000 in just five days. As Bitcoin prices slump, investors are finding profits in the world's oldest currency, gold.
Here's how high gold prices will rise, including a recap of gold's price movement over the last week...
Gold Prices Continued Making Gains Last Week
The Fed's rate hike on Dec. 13 boosted gold prices, but gold managed to build on those gains last week.
After ending the week of Dec. 11 at $1,256, the metal opened for trade on Monday, Dec. 18, at $1,259 and climbed as the U.S. Dollar Index (DXY) faced pressure. The DXY fell to a mid-morning low of 93.50, from which it recovered to 93.7. Gold then ran up to a $1,263 peak at 11:00 a.m., eventually closing at $1,262.
Urgent: Executive Editor Bill Patalon just saw something on his precious metals charts he's only seen twice in 20 years. He calls it the "Halley's Comet of investing" - and it could lead to windfall profits. Read more...
Tuesday would see gold move sideways as the dollar clawed back to 93.7 by late morning. The yellow metal opened strong at $1,263, but then backed off on the dollar's strength to a 1:00 p.m. low of $1,259. As the dollar backed off to 93.45, gold regained a couple of dollars to end at $1,261.
On Wednesday, gold moved sideways even as the dollar took another dive. The DXY sank to 93.17 at mid-morning. Gold opened at $1,266, and with low volatility closed at $1,265 as the dollar recuperated to 93.35.
Here's a chart of the past week's DXY action.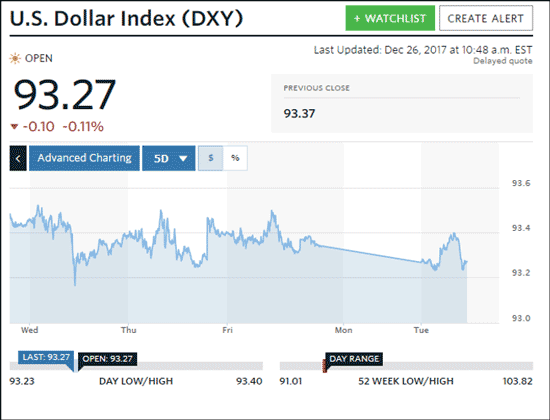 Thursday's early morning news that the final estimate for Q3 U.S. economic growth was revised down to 3.2% from 3.3% had little effect on gold. The metal opened for New York trading at $1,264, but climbed as the DXY peaked at 93.5 at 8:00 a.m. then sold down to 93.3 by 1:00 p.m.  That action help to lift gold to close at $1,266.
Friday's action brought more strength for gold, even as the dollar regained some strength. Gold opened at $1,268 but shot to $1,276 by 1:00 p.m., even as the DXY peaked at mid-morning at 93.49. The dollar index then retreated to 93.3 by 5:00 p.m., and gold held most of its gains to close at $1,275.
The Christmas holiday meant the next trading day would be Tuesday, Dec. 26. And as the dollar exhibited further weakness, gold climbed higher. The yellow metal opened at $1,281 and by mid-day was trading at $1,283.
But gold's gain on the week is just the start. I'm predicting that we're only in the beginning stages of a new gold price rally. Here's where I see gold prices heading next...
My Prediction for the Price of Gold in 2018
[mmpazkzone name="in-story" network="9794" site="307044" id="137008" type="4"]
Conventional wisdom holds that rising interest rates weaken gold prices, but that's not borne out by the evidence.
Now that the Fed's latest rate hike is a done deal, let's look at the dollar.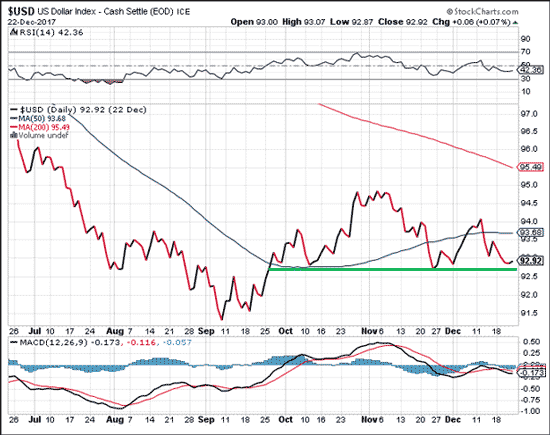 Like I said last week, the dollar looks to be forming a textbook head-and-shoulders technical price pattern. The next movement for the DXY could be down to the 91.5 level. The 50-day moving average looks to be topping, and both the RSI and MACD are confirming a downward bias.
As for gold itself, we have the rally I had expected would come as the Fed announced another rate hike mid-December. Have a look: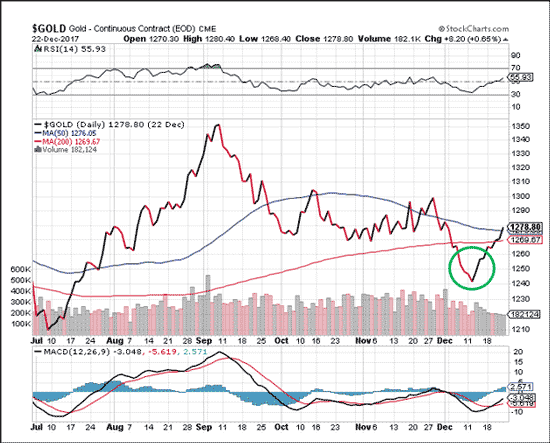 Interestingly, this rally has quickly pulled the gold price back above its 50-day moving average of $1,276, and it's being confirmed by both the RSI and MACD momentum indicators.
It would not surprise me to see my $1,350 target taken out much faster this time, possibly by the end of January.
But the rally isn't just boosting gold prices. We're seeing buy signals in gold stocks as well.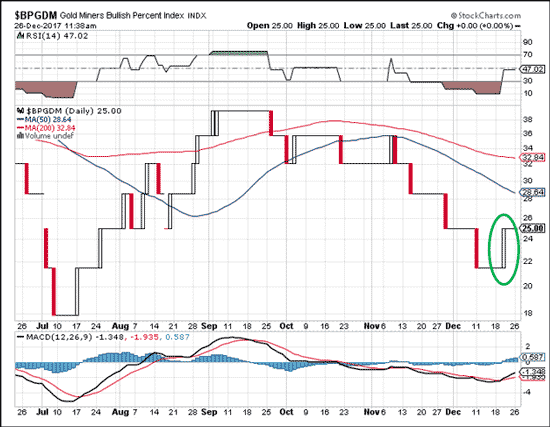 The Gold Miners Bullish Percent Index ($BPGDM) has just turned upwards from below the 30 level, and this has often marked the start of a rally in gold stocks.
From here, look for a strong push higher in gold and gold stocks heading into 2018. Investors looking for profits as stock prices flatten and cryptocurrencies sell off could turn to gold in 2018.
Up Next: Rare Gold Anomaly
Money Morning Executive Editor Bill Patalon just caught something on his gold charts that he's only seen twice in the past 20 years. A $13 billion gold anomaly he calls the "Halley's Comet of investing."
It's very rare, and fleeting, and Bill sees things lining up perfectly to bring some very sizeable precious metal profits to well-positioned investors.
Click here to check out his research...
Follow Money Morning on Twitter @moneymorning, Facebook, and LinkedIn.