We don't want to scare anyone, but investors need to be aware of this recession prediction: 2018 could be the year of the next downturn.
This might sound crazy. The Dow Jones is within 300 points of hitting 25,000 points, its highest level ever. Last quarter's GDP growth came in at 3.3%, its highest growth rate in more than two year. And unemployment is at 4.3%, a level economists consider near "full employment."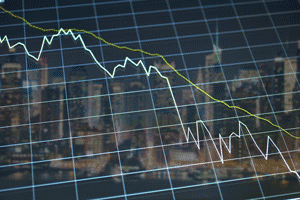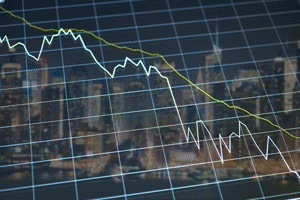 But despite these positives, there are some recession warning signs to keep your eye on.
Now, this doesn't mean a 2018 recession is a certainty. In fact, we think the economy and the stock market have room to continue growing. But smart investors are never complacent, and we want our readers to be fully informed about what's coming next.
Here's why a recession in 2018 is possible and what you can do to protect your wealth…
What a Recession Means for Your Money
Recessions are two consecutive quarters of negative GDP growth. That can mean people losing their jobs, the stock market crashing, or the fear that both of those events could be on the verge of happening.
And while the effects of a recession could be financially dire, Americans are very unprepared to weather that kind of downturn.
Retirement "Money Machine": With this powerful income generator, you could pocket an average $3,115 per week, $13,500 per month, $162,000 per year… all by "recycling" a small one-time stake. Learn more…
In 2015, the Federal Reserve noted that more than one-third of adults in the United States didn't have assets that could cover their income for three months. Their situations could be devastating if jobs or other sources of income are lost.
Consumer debt is coming close to the levels it reached in 2008, when it hit an all-time high.
With Americans having more debt and less savings with the economy doing so well, an economic downturn could be devastating.
And for investors looking toward retirement, a recession could be devastating too.
In the last seven recessions over the past 40-plus years, stocks have always plunged. During the last recession, the Great Recession in 2008, the S&P 500 lost a whopping 52% of its total value before it recovered in March 2009.
That's why investors can't afford to be complacent, especially as these signals could forecast a recession…
Why a Recession Could Be Coming in 2018
The Federal Reserve could cause a recession in 2018.
You see, the Federal Reserve is in the process of hiking interest rates and unwinding its $4.5 trillion balance sheet. Since low interest rates and trillions in spending by the Fed have helped boost the economy and stock prices, ending those programs could lead to a pullback.
The Fed slashed interest rates from over 5% in 2007 to an all-time low of 0.25% in 2008. The idea was to make borrowing money cheap, which would allow companies to grow or stay solvent during the recession at little cost.
But while companies took advantage of the low interest rates and cheap borrowing, they funneled that money into buying back shares of their own stock, boosting stock prices. Between 2008 and 2016, public companies borrowed $1.9 trillion while buying back $2.1 trillion of their own stock.
That's part of the reason the Dow has soared by over 240% since March 2009.
Now, the Fed is tightening its policies, and that's pulling liquidity out of the market, a move that could lead to companies slowing down their investments, which could lead to a recession or stock market correction.
And that's causing this "classic recession signal" to show up again…
The yield curve, which traditionally shows longer-term bonds producing higher yields than short-term bonds, is flattening. When the yield curve "inverts" – when long-term bonds produce smaller yields than short-term bonds – recessions follow soon after.
Don't Miss: 10 Reasons Gold Could Go to $3,000 in 2018
Recessions have followed an inverted yield curve the last seven times. The reason is simple: Investors typically only buy long-term bonds as a hedge against instability, so when the economy and stock market are doing well, these long-term bonds aren't very attractive. That lower level of demand keeps their prices low and their yields higher. But when investors fear a slowdown is coming, they flock to the security of long-term bonds, driving up their prices and reducing their yields.
The trajectory of the yield curve shows that's in the process of happening right now, especially as the Fed continues to pull money out of the economy.
Again, that doesn't mean a 2018 recession is going to happen. But it is evidence that despite the great economic numbers, there are signs of weakness.
That's why we want to show our readers two strategies they can use to protect their money, and even profit, if there is another recession coming…
2 Strategies to Protect Your Wealth During a Recession