Silver prices are on the rise, and historic data shows that this could be just the beginning for this rally...
The Federal Reserve's tightening monetary policy is one of the silver price catalysts that's helped start this latest rally.
Silver is already 5.5% higher since the Fed's Dec. 13 decision to hike interest rates for the third time this year. And if this rally is anything like past end-of-year rallies, then we may have only seen a third of the possible gains we'll make by the end of February.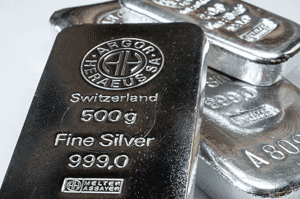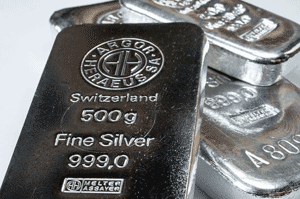 What's more, precious metals are becoming divorced from rising interest rates, which means their growth potential isn't bogged down by the Fed's policies.
You Have to See It to Believe It: The Night Trader's most powerful tool tells him exactly which stocks are set to go up tomorrow, the next day, the day after that, and beyond. And it is rarely ever wrong. Click here to learn more...
It makes sense. Consider that Trump's tax cuts are expected to add $1.5 trillion to the country's debt over the next 10 years, according to the CBO. That gives silver investors a reason to bet against the dollar.
Add it all up, and the silver price rally we're seeing is just getting started.
Today, I'll show you just how high silver prices in 2018 can go. But first let's look at the silver price movement from last week...
Why the Price of Silver Jumped Ahead of the Holidays
It was a flat week for silver until the last trading day before the Christmas holidays.
Silver began on Tuesday, Dec. 19, with some lackluster action, even as the dollar was retreating.   The DXY stayed below 93.45, and silver moved quietly sideways, opening at $16.16 and traveling slowly downwards to end at $16.12.
On Wednesday, the DXY clung to 93.3. Silver managed to open a little higher but again moved essentially sideways. Only by late afternoon did the gray metal weaken. At the 5:00 p.m. New York bell, the price of silver had fallen slightly to close at $16.16.
Thursday brought a slight gain in the U.S. Dollar Index, which closed at 93.35. That motivated silver sellers. The metal began New York trading at $16.11 and grew to $16.21 by mid-morning, but gave that all back to end the day at $16.10.
Here's how the DXY moved over the past five days, where you can see the DXY decline that helped boost silver prices...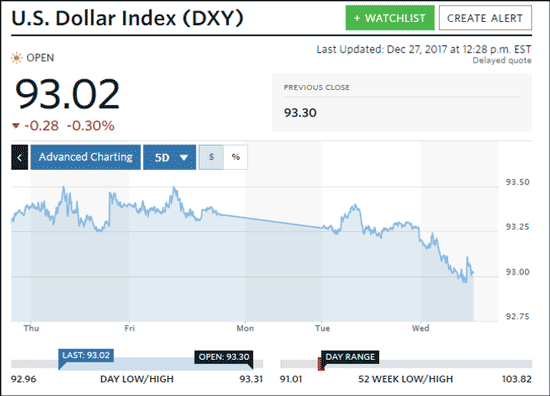 On the Friday before the Christmas holiday, action returned to the silver markets.
At mid-morning, the DXY popped to test the 93.50 level but quickly retreated to 93.35. That was silver's cue to rally. Silver prices opened at $16.18 then jumped to $16.38 by noon. Silver eventually closed at $16.37.
On Dec. 26, silver rallied further even as the dollar index made another short-lived attempt to rally. Silver opened higher still at $16.44 and gained steadily through the day to close at $16.52.
And finally, on Tuesday, Dec. 27, the DXY weakened to test the 93 level. That pushed silver higher yet. It began New York trading at $16.55 and by late morning had rallied to $16.69, a level it last saw about a month earlier.
Now that silver prices are at a December high and approaching their highs from November, I think silver is ready to rise to a whole new level. Here's my silver price prediction to start 2018...
Where Silver Prices Are Heading Next
Join the conversation. Click here to jump to comments…
About the Author
Peter Krauth is the Resource Specialist for Money Map Press and has contributed some of the most popular and highly regarded investing articles on Money Morning. Peter is headquartered in resource-rich Canada, but he travels around the world to dig up the very best profit opportunity, whether it's in gold, silver, oil, coal, or even potash.