The Dow Jones just closed at a record high of 24,837.51 yesterday (Dec. 28) and is inching closer each day to an all-time high of 25,000 points. But with stocks skyrocketing to all-time highs, investors are asking, "When will the stock market crash next?"
While it's not possible to say for sure that a stock market crash, a correction, or even the next recession is on the horizon, we don't want our readers to find themselves unprepared.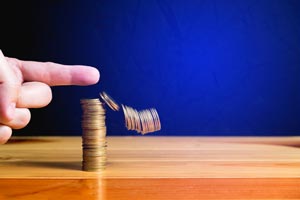 A stock market crash can be devastating to investors, with potential losses of 10%, 80%, or even higher. Since the Dow has gained more than 274% since this bull market began in March 2009, investors are wondering if the next stock market crash is going to happen sooner rather than later.
Now, we aren't making a prediction about a stock market crash coming.
But the record-breaking stock prices are leading investors to overlook other indicators that paint a more pessimistic picture.
We want our readers to be fully informed and aware of everything going on in the markets, and we especially want them to be prepared for future events.
Here's what could cause the stock market to crash and what you can do to protect yourself…
Why a 2018 Stock Market Crash Is Possible
While we don't believe that it's a likely scenario, there are two reasons that we could see a stock market crash in 2018.
First, the Federal Reserve is tightening monetary policy.
While everyone knows the Fed is hiking interest rates and unwinding its $4.5 trillion balance sheet, these actions could have unintended consequences.
Urgent: Feds use obscure loophole to threaten retirees. If you have a 401(k), IRA, or any type of retirement account, this could cause you to miss out on $68,870 or more. Learn More…
You see, when the last financial crisis hit this country in 2008, the Fed worked to stimulate the economy by drastically slashing interest rates. The Fed cut rates to just 0.25% and began buying up toxic assets, racking up a massive $4.5 trillion balance sheet.
The idea was to inject cash into the economy by making borrowing money cheap and easy, while also buying up assets no one else wanted.
While the plan "worked," it created some new problems.
Companies took advantage of the cheap borrowing costs, and they used the money to repurchase shares of their own stock. Share buybacks are a normal part of business plans for most companies, but it was the volume of these share buybacks that we're noting.
Between 2009 and 2016, publicly traded companies borrowed $1.9 trillion thanks to historically low interest rates, while repurchasing $2.1 trillion of their own shares. That means low interest rates helped fuel trillions in share buybacks.
And that's coming to an end…
The Fed has been steadily hiking rates since December 2015, including three rate hikes in 2017 alone. The interest rate rose above 1% this year for the first time since 2008. The Fed is predicting there will be three more hikes in 2018, which could send interest rates above 2% for the first time since 2008.
Trending: How to Retire at 60
The period of low interest rates is coming to a quick end, and that means there's less liquidity available to pump up the stock market.
Which leads us to our other point…
Stocks are sitting at historically high valuations.
That means stocks are selling for multiples of their earnings at levels they've rarely ever hit, making them comparatively expensive. That could be a sign that the Fed's liquidity injection has helped push stocks into overvalued territory.
That means a market correction to more typical valuations is plausible. But with valuations at dramatically high levels, a sell-off could spiral into a market crash.
Just look at the Cyclically Adjusted Price Earnings (CAPE) ratio, one of the best measures of valuations available. The CAPE ratio is currently at 32.65, which is 94.34% higher than the ratio's historical average.
The CAPE ratio has exceeded its current level just twice: in 1929 and 2000. That's right, just before the 1929 stock market crash and the 2000 dot-com bubble crash.
Again, this doesn't mean the stock market will crash. It might not even be very likely. But we want our readers to know all facets of the market, not just the flashy numbers on TV.
And that means we also want our readers to be prepared for all scenarios, including a 2018 market crash. Here's our simple strategy to protect your money and profit in any market condition…
How You Can Prepare for a Possible 2018 Stock Market Crash