Uber's mistakes in 2017 led to the ouster of the company's founder and CEO Travis Kalanick.
In early September, ride-hailing platform Uber brought on a new chief executive officer, Dara Khosrowshahi, to replace Kalanick and restore investor confidence in the company.
The new CEO made it immediately known he wanted the company to go public between 2019 and 2021, according to an Aug. 30, 2017, CNBC report.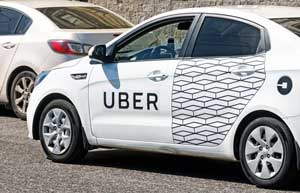 But even with a new CEO, Uber's controversies under Kalanick could still delay the IPO...
Uber's Mistakes in 2017 Piled Up
Uber has been in the news throughout 2017 because of missteps and scandals.
Under Kalanick's watch, Uber was accused of everything from promoting a culture of sexual harassment to deceiving regulators.
On Feb. 19, a former engineer for the company, Susan Fowler, alleged in a blog post that she was sexually harassed. On Feb. 23, Alphabet Inc. (Nasdaq: GOOGL) sued Uber for intellectual property theft.
Then on Feb. 27, Kalanick asked former Uber Senior Vice President of Engineering Amit Singhal to step down amid emerging sexual harassment allegations from when he formerly worked at Google.
Video
Who Is Dara Khosrowshahi?
That was all just in February.
March was another notably bad month for the ride-hailing service. Uber was accused of deceiving authorities in areas it wasn't allowed to operate in by using a tool called "Greyball." The tool allowed Uber to circumvent law enforcement efforts to track the company.
On top of that, both Uber's president and vice president of product and growth resigned in March.
And the bad news continued right before Uber hired Khosrowshahi as CEO at the end of August.
Uber had knowingly leased unsafe cars to its drivers in Singapore, according to an Aug. 4 NPR report.
One of the cars caught on fire and melted the interior while a driver was in the car. Fortunately, the driver was unharmed.
But overcoming scandals isn't the only roadblock in the way of the Uber IPO. Khosrowshahi wants to make the company profitable before the Uber IPO date.
Breaking: California Marijuana Legislation Sparks the Most Profitable Opportunity of 2018. Click Here for Details...
He has a long way to go, as the company lost $2.8 billion in 2016.
And Uber is on track to lose $2.7 billion in 2017.
But if Khosrowshahi can lead Uber past its scandals and make it profitable, should you buy Uber stock?
Here's the answer, plus a way to make money before the Uber IPO date that you can't afford to miss...
What You Need to Know Before Buying Uber Stock