MassRoots Inc. (OTCMKTS: MSRT), a social media company for cannabis enthusiasts, made a huge announcement on Dec. 29, 2017: It formed a blockchain subsidiary.
And the MassRoots stock price went nuts...
It climbed from $0.67 per share to $0.98 per share yesterday (Jan. 2, 2018), a 46% gain in just one day.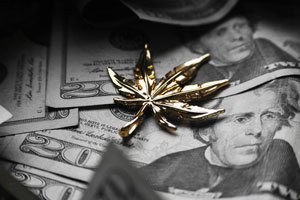 Blockchain, the underlying technology of Bitcoin, is receiving more and more attention from investors. As of October 2017, there were 42 equity investment deals by corporations in blockchain companies totaling $327 million, according to CNBC.
Through its wholly owned subsidiary MassRoots Blockchain Technologies Inc., MassRoots will develop blockchain-based solutions for the cannabis industry.
But what really pushed the MSRT stock price up nearly 50% yesterday was what the blockchain can do for MassRoots' business...
The MSRT Stock Price Jumped 46% Thanks to Blockchain Plans
In the company's Dec. 29 press release, MassRoots presented five benefits of using blockchain technology in the cannabis industry.
In its presentation, MassRoots also detailed how each of these features could be used...
Seed-to-Sale Tracking
Seed-to-sale tracking through blockchain technology will allow cannabis companies to stay compliant with government regulations. Through tracking, cannabis companies and regulators will be able to track the times, dates, locations, and quantities of marijuana being produced.
Having all the information in one verified and safe place will make it easier for all parties involved to track cannabis.
Smart Contracts
Smart contracts are pre-approved deals that automatically execute. Through the smart contract, a cannabis company could have its inventory levels monitored.
When the smart contract sees inventory levels are low, it could automatically reorder more of a specific cannabis strain for the company, MassRoots said in its presentation.
Eliminating Intermediaries
MassRoots says buyers and sellers in the sharing economy generally have to conduct business through a third party like AirBnb and Uber.
An intermediary in the marijuana industry can be eliminated with blockchain technology, which allows peer-to-peer transactions.
MassRoots said in the press release that it's "exploring how this can be applied to producers of cannabis and the dispensaries that purchase from them."
Governance
For its shareholders, the tech company is exploring how to apply blockchain technology to proxy voting.
BREAKING: New Legislation Could Turn Tiny Pot Stocks into Millions. Click Here...
Instead of having to mail in a vote or try and attend a shareholder meeting, MSRT shareholders could eventually vote on their computers.
MassRoots said the technology could give shareholders a "greater degree of transparency and communication."
Identity Management
MassRoots collects data from its users, but it believes that process could be streamlined to be more efficient.
Through blockchain technology, MassRoots says it could "enable advertisers to better target consumers, reduce the risk of security breaches, and enable the development of solutions that better serve the MassRoots community."
We won't know how adding the blockchain to its business will affect its profits until it's actually implemented, but it's clear investors are excited by the possibilities.
We'll continue to provide our readers with up-to-date reports on MassRoots and other pot stocks through our free Profit Alerts service.
Through Profit Alerts, you will receive moneymaking recommendations in real time.
But there's a more lucrative way for investors to profit from the marijuana industry. That's why we had to make sure you could access a time-sensitive report from Money Morning Director of Technology & Venture Capital Michael A. Robinson about the next big event in the cannabis industry.
We've already seen gains throughout the market as high as 516%, 523%, 416%, 436%, 293%, and 272% - just to name a few.
But the recent news from our neighbors to the north could blow all that away...
Historic Legislation Could Create the Next Pot Stock Boom
[mmpazkzone name="in-story" network="9794" site="307044" id="137008" type="4"]
Robinson is our in-house cannabis expert, and our readers have been raving about his research and recommendations.
Check out what members are saying about Robinson's service...
"You are giving me my future. With each trade I place and good investment locked in I am moving farther away from a future of struggle and difficulty. You are also giving me the confidence to pursue investments I KNOW are solid, like Canadian Cannabis stocks."
And more are pleased with his recommendations...
"I am extremely pleased with the guidance Mr. Robinson is providing. I just wish I had more to invest so I can take advantage of his outstanding recommendations."
Now, we're making sure our readers can access the details about an earth-shattering government announcement...
Thanks to this historic legislation, tiny pot stocks trading for under $5 are getting set to double, triple, or quadruple.
In an exclusive interview with Money Morning, Robinson shares all the good news - including details on five tiny weed stocks that could potentially turn a small stake into $100,000.
Follow Money Morning on Twitter @moneymorning, Facebook, and LinkedIn.