If you've ever turned on the business news before the market opens, around 9:30 a.m., you'll hear all about "after-hours trading" or how stocks will open higher thanks to after-hours trading.
Since the stock exchanges are officially closed after 4:00 p.m., investors have been asking "Can I buy stocks after the market closes?"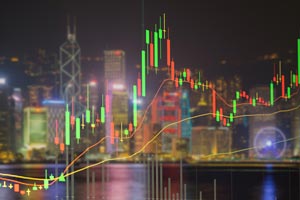 The short answer is yes – any investor can buy stocks after the market closes. But there's also a new strategy called "night trading," and it's making helping to make people rich…
The New York Stock Exchange and Nasdaq are officially open for trading between 9:30 a.m. to 4:00 p.m. EST. But "electronic communication networks" allow traders to set themselves up to buy and sell stocks between 4:00 p.m. and 8:00 p.m., and then again between 4:00 a.m. and 9:30 a.m. While institutional investors have used after-hours trading since the 1990s, retail investors are now able to do it through popular brokerages, like TD Ameritrade.
Since there is less trading volume after hours, stock prices tend to be more volatile than during normal trading hours. While higher volatility means traders can sometimes find values when buying stocks after the market closes, it also means they might have to pay more for a stock if they are committed to buying it immediately.
And while retail investors are now able to make after-hours trades like banks and hedge funds, a new system created on April 1, 2017, has helped to create an even better opportunity for investors.
Not everyone knows how to take advantage of this new opportunity…
But Money Morning Quantitative Specialist Chris Johnson does. He's calling his new, proprietary approach "night trading."
You Have to See It to Believe It: The Night Trader's most powerful tool tells him exactly which stocks are set to go up tomorrow, the next day, the day after that, and beyond. And it is rarely ever wrong. Click here to learn more…
Johnson says traders who rush into the market after the 9:30 a.m. opening bell are playing Wall Street's game. And Johnson knows all too well how this game is rigged to benefit Wall Street elites. He used to play it himself.
Not anymore…
"Now I play my own game – by my own rules," Johnson says.
In fact, his night trading approach has made him wealthier than he ever thought possible.
Johnson is able to log into his computer any time at night, after the market has closed, and execute this special trade that can bring in 50%, 75%, or 125% gains all by the time he checks his account the following day.
And here's the thing: Johnson's night trading strategy can be fully automated. Once his trade is set, he doesn't have to touch anything. The trade executes automatically when a specific event triggers it, and any winnings are automatically deposited back into his account.
Now, this is not actually "after-hours trading." But if you're ready for the chance to break out of playing Wall Street's game, or trying to beat a rigged system between 9:30 a.m. and 4:00 p.m., click here to learn how to become a night trader…
Follow Money Morning on Twitter @moneymorning, Facebook, and LinkedIn.