Gold prices reached a five-month low of $1,241 on Dec. 12, but they are now up nearly 6.3% since that dip less than a month ago. That has investors wondering, "Should I buy gold in 2018?"
While every investor has different goals, we think investing in gold in 2018 will be one of the most profitable decisions you can make this year.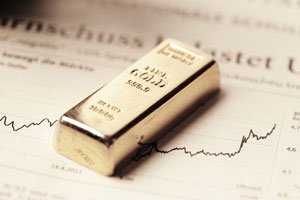 In just a bit, we'll show you Money Morning Resource Specialist Peter Krauth's latest gold price forecast for 2018, and it's one you can't afford to miss.
But before we show you Krauth's exact gold price prediction, we want to show you the three main catalysts that will help drive gold prices higher in 2018...
Gold Price Catalyst No. 3: Inflationary Pressure
Krauth says rising inflation - and the declining value of the U.S. dollar - will help boost gold prices in 2018.
Currently, inflation is sitting at 1.6%. While this is lower than the U.S. Federal Reserve's target rate of 2%, it's the second-highest inflation level that we've seen in five years. We're expecting to see inflation trend even higher in 2018, reports Krauth.
The Night Trader's Secret: A former Wall Street insider just revealed a new strategy for executing night trades that could set you up for potential $850, $2,250, or $6,775 paydays - overnight. Click here.
You see, inflation is the weakening of the U.S. dollar's purchasing power as measured by price changes in various products and services.
And gold has been a historic hedge against inflation. As the dollar weakens, gold's price typically strengthens.
As inflation and uncertainty rise in the American economy, investors will turn to gold to protect their wealth, driving up the price of gold.
Gold Price Catalyst No. 2: Investor Trends
When investors stop betting against gold, it's a strong indicator that gold prices are heading upward once again.
And over the past 12 months, the number of gold stock and gold ETF short positions has decreased.
Just one example of this is NovaGold Resources Inc. (NYSE: NG), which is a Canadian gold miner. In the past year, the quantity of short positions on NG has plummeted 79% to just over 522,000. This illustrates that investor attitudes have shifted from being bearish toward gold to being bullish once again.
An even better measurement of the short interest in this precious metal is the Gold BUGS Short Index (NYSE Arca: HUISH). This is an index that tracks short sales on gold mining stocks. Over the past year, HUISH has fallen 11.25%, which indicates a falling interest in shorting the overall gold sector.
With investors pulling their money out of short positions, we're expecting gold prices to head even higher.
But the last catalyst is one that will likely have the largest impact on gold price over the next several years...
Gold Price Catalyst No. 1: The Fed Is Tightening Policy
Over the past 30 years, any increases in Fed interest rates have resulted in gold price gains. Now, the Fed is tightening monetary policy, with three more rate hikes predicted for 2018.
Prior to an interest rate bump, you may see the price of gold falter. However, once interest rate increases are announced, the price of the precious metal always rallies. This is supported by data going back to 1986.
Don't Miss: Our Essential Guide to Buying Gold & Silver
This reliable trend appears to be materializing once again as we head into a period of increased interest rates courtesy of the Fed.
The Fed has already hiked rates four times since December 2014, pushing interest rates above 1% in 2017 for the first time since 2008. With three more rate hikes expected in 2018, interest rates could rise above 2% for the first time since 2008.
The Fed's catalyst will supply gold with consistent gains in 2018.
And to see just how high the price of gold will rise in 2018 and beyond, here's our bullish price target...
Should I Buy Gold in 2018? Here's Our Bullish Gold Price Target
[mmpazkzone name="in-story" network="9794" site="307044" id="137008" type="4"]
Krauth predicts gold prices could rise between $1,475 and $1,500 by the end of 2018, as these three catalysts continue to push prices higher.
But Krauth is even more bullish over the long term. His price target for 2020 shows gold reaching $5,246 an ounce, a 298% gain from today's rate.
Now, there could be short-term pullbacks in the meantime, but the overall trend for gold is clear: Prices are going up.
Krauth predicts gold will hit the $1,400 level by June 2018. But gold prices could be pushed higher faster if any external events create uncertainty, whether that's a stock market correction, another nuclear test by North Korea, or a revolution in Iran.
We'll keep you updated on gold prices the whole way with our free Money Morning Profit Alerts service. You can sign up by clicking right here to receive our latest insights on gold as soon as we publish them.
The Night Trader Has Arrived... It's taken us eight months of negotiations... and now, the moment has finally arrived. A former CEO and Wall Street insider revealed his coveted night trading strategy - a new mechanism for executing trades that set you up for potential $850... or $2,250... or $6,775 paydays - OVERNIGHT. Go here for details.
Follow Money Morning on Twitter @moneymorning, Facebook, and LinkedIn.